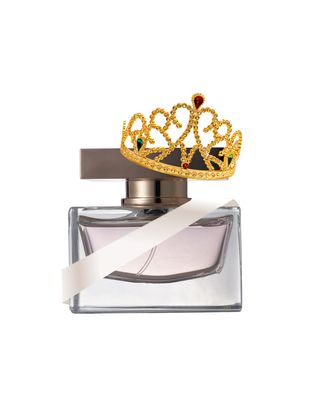 For those of you who have summer birthdays, we have just the present to add to your list. Come June, in partnership with Omni scents, the Miss Universe organization will release a collection of three perfumes. There will be one scent for each pageant: Miss Universe, Miss USA, and Miss Teen.
And while we're talking Trumpian beauty, congratulations to the newest Miss Universe, Miss USA, whose head-size top knot almost kept the crown from fitting on her head. It was a testament to her beauty-queen posture, though, as it cannot be easy to walk around in stripper shoes sky-high platforms with a hair grapefruit on your head. Then there was Miss Russia, who could've used a trim on her limp ends, and Miss France, whose deep-set eyes went hidden underneath a shelf of false lashes and too much dark smoky-eye makeup. But brava to the brunettes, with their long, barrel-curled locks, who outnumbered the singular blonde in the final five.
Annnnnd, back to the fragrances: Details on what these might actually smell like have yet to be determined, but we're imagining them to include notes of spray tans, sparkles, and hairspray, with a hint of plastic surgery.