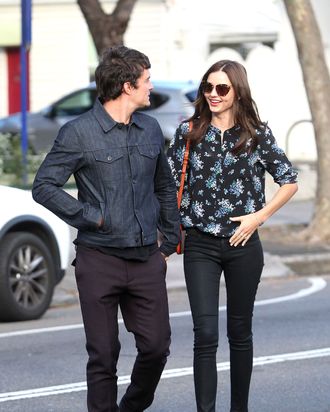 Photo: Blue Wasp/Grey Wasp/Splash News
This week's In Touch, which asks (rhetorically) if Taylor Swift is "using" Harry Styles, also reports Miranda Kerr and Orlando Bloom are separated, citing a source who said, "Right now they're separated," adding, "They're living apart and figuring out what they want to do next." But the Daily Mail, ever in pursuit of the truth, gave Orlando's mum a ring on the telly:
Asked about the break-up rumours, Sonia Copeland-Bloom said: 'Of course not, no.


'I don't know where this has come from but, my gosh, they are very happy.'
For the next seven days. Enjoy it, kids!
Related: Miranda Kerr Is Still Married to Orlando Bloom