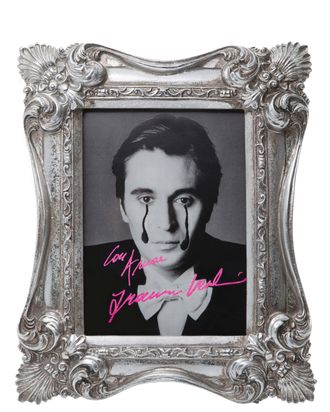 Photo: Courtesy of Yoox.com
Francesco Vezzoli, the Italian artist known for weeping supermodels depicted as renaissance Madonnas, has produced a self-portrait to benefit the Emilia Romagna region of Italy, which was hit by an earthquake, earlier this year. He's issuing just 399 copies of Con Amore, Francesco Vezzoli, on Yoox.com for $399 — a steal for a hot-ticket artist who's repped by the Gagosian, has collaborated with Miuccia Prada, and whose individual works have sold for $80,000.
While it's mind-boggling that he's selling this limited-edition piece for much less, he says it's the first time he's concerned about profits. "I'm extremely concerned with sales," he tells the Cut. "I'm [like one of] those pushy Park Avenue ladies trying indefatigably to sell expensive charity tables!"
As Vezzoli explains it, the portrait was taken many years ago by fashion photographer Francesco Scavullo and it plays with the notion of the artist as celebrity. In the photo, he's crying — a trope throughout his work — though he insists it's because he's "begging everyone"  to help his cause out. "It looks like a studio Harcourt Picture, but Cosmo-style." Like one of those autographed images from Hollywood's silver-screen-era stars, it's something we could imagine being unearthed (and loved) many decades from now.