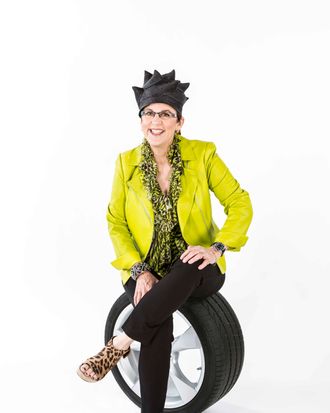 When Jean Jennings, Automobile's fast-driving, hat-crazy editor-in-chief, first met the chairman of the magazine's parent company, Source Interlink, he complained, "My wife says we don't do anything for women to read." Source runs 60-plus magazines and websites for "enthusiast audiences." Their enthusiasms run from the common to the super-niche — from cars and tattoos to ATVs and home theaters — but all fall in the "prized" male 18- to 34-year-old demographic, according to the company's website.
"Do you know any women who write about cars?" he asked.
As it happens, Jennings has been writing about cars for more than 30 years. A teenage cab driver turned Chrysler mechanic, she snagged her first writing job at Car and Driver in 1980 on the basis of her award-winning union newsletter. In the mid-eighties, she was part of a group of editors who defected from Car and Driver to form Automobile ("with Rupert Murdoch's money," as she likes to say), and where she continues to write a monthly column, "Vile Gossip."
"I don't think of myself as a woman who writes about cars for women," Jennings told the Cut when we reached her at her Michigan office earlier this week. "I take cars places. I am a weirdo magnet. I have adventures and write about them."
In October, Jennings and Source launched JeanKnowsCars.com as a sister website to Automobile. In videos on the site, Jennings offers herself up as a generously knowledgeable friend to a broader audience, one who's enthusiastic, if a little intimidated, and definitely more female. Or, as Jennings put it, "all the people who don't know the secret car guy handshake." Stories range from reviews, (the 3 Cutest New Cars at the L.A. Auto Show), to user-submitted car confessions ("I don't like hybrids") to dispatches from New York Fashion Week (it is sponsored by Mercedes-Benz, after all).
"The chairman's wife loves it," Jennings said.
What made you start a car website for women?
It's not a website for women. It's a website by women. I want people to love cars. I want them to have all the fun I've been having all along. I want to give them a leg up when they go to the dealership. They don't have to wade through all the nuts, bolts, and pounds per square inch — they can love cars without doing that. I will tell you that the head of every car company in the world is a man. Just over 97 percent of all car dealerships in the United States are owned by men. Is it any wonder that women feel overwhelmed by this big, testosterone-poisoned atmosphere? I know how much women love cars and they love them in a different way. I hate that when they go to buy a new car they feel insulted and demeaned by the person selling it to them, when in fact it should be the happiest time. I just bought a new car!
What kind of car did you buy?
I bought a Volkswagen Jetta Sports Wagon Turbo Diesel — a station wagon that will hold one show dog. I have a lot of dogs. It's like a kick in the back, the diesel. It's very, very strong. And with the turbo, it's very, very, fast. It's German and it has more space in it than a big gym SUV. More cargo.
Even today, female cab drivers are a rare sight. Tell me about working for Ann Arbor Yellow Taxi in the seventies. 
I was working at the Post Office and I really hated it. I was a hippie back then, living in a house with a whole bunch of people. One of them said, "They need somebody to drive a cab and I can't drive the all-night shift tonight." I figured, it's a desperate situation and I love driving. There was no training, none. I bought a used car and painted it yellow. I taught myself how to work on the car. It was a real fun thing. Every time somebody got in the back, it was a whole different story. I picked up someone outside a bar who had been in a bloody bar fight, took him home, cleaned him off, put him in his bed. The next person was a doctor going on his rounds. Old ladies, kids with Down Syndrome on their way to their special school. It's like being a waitress. They're just talking to you and then they give you money and it's cash. If you needed money, all you had to do was get in the car and drive. On Friday, I would go out, make enough money to go buy beer, and then go home.
Why did you stop driving the cab?
I got out of it because it became very, very dangerous. I was stalked by an ex-boyfriend and he could find me all over town. In those days, you had your license up on the dash and it had your home address on it. I got robbed at home at gunpoint by three guys in ski masks who I'd driven earlier in the week. I moved out to the country, but it got worse and worse. My first husband was a dispatcher and sent out one female cab driver who was murdered by a passenger on his way to a nearby town to try to murder his girlfriend. So it just was too dangerous. Out in the country I lived very close to the Chrysler test track, so I'm going to try to get me a job as a test driver. I did that for two and a half years; then I got the job at Car and Driver — a place suffering from severe testosterone poisoning.

A car magazine was more testosterone-heavy than the Chrysler test track!?
It was worse because they were more elite snots. At the Chrysler proving ground, the guys were farmers who worked the afternoon shift so they could have benefits. I got along really well there. I was one of its first two female mechanics, but I never wore being a woman as a sword and shield. First of all, I had no college degree and I made $18,000 with a pension. This was in 1977. I wasn't going to screw that job up. I lied. I told them I could weld. Luckily, I was a natural welder. Women make great welders. It's like sewing but with liquid metal — up and down and right and left, all at the same time — men can't do that. It's much too complicated.

You've been the editor-in-chief of Automobile for more than a decade, and an editor at Car and Driver before that. Why not just steer those publications toward women?
You don't write for someone who isn't there. You write for the readers. If there are women enthusiasts, they're already reading Automobile. I was never an automobile enthusiast, per se. I got a job there because my brother sent me there. The editor who interviewed me was just messing with the guys; he'd already interviewed twenty guys for the job. I was wearing this India Imports shmatte dress over jeans with feather earrings, but I had him laughing so hard in the interview he just thought, "I'll do this for a little bit longer before I have to hire someone real."

Now you're known for your accessories.
Shoes, hats, and glasses — it's all there. The hats are kind of out of control, but it's okay because I love them. I took people into my bedroom for a video to show them my famous hat by Mr. Song, who of course made Aretha Franklin's hat for Obama's inauguration. Philip Treacy saw that hat on my head in Pebble Beach, where he was doing his commission by Bentley, and he gave me a private hat show before the whole thing started. Pulled out a model and put on all the hats. It was amazing.

You attended your first Fashion Week this year. How was it?
I just loved it. I thought it was out of this world. There was one person more weird than the next. People kept coming up to my videographer and saying, "Is she a designer?" Because of the hat I was wearing. I call it the Dyson because it looks like the Dyson bladeless fan. We did go to a Charlotte Ronson show; we were sitting in the front row, facing Kimora Lee Simmons and her husband and Paris Hilton. For dinner afterwards, we walked into some place near Lincoln Center, and a woman was walking out, in a dress cut down to her belly button. She had fairly large breasts and I said, "How very Kardashian-esque." My friend goes, "Funny, because that was Kim Kardashian." In real life, she looked a little more tiny and timid.