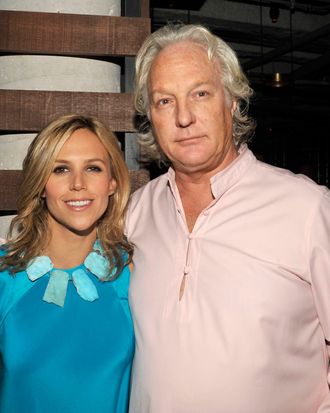 Truce.
Photo: Patrick McMullan
What was shaping up to be a spectacularly messy court case between ex-spouses Chris and Tory Burch has ended with an anticlimactic settlement. WWD reports that the Burches came to a peaceful agreement and will not pursue their various lawsuits, subpoenas, and counter-suits. As you might expect, the details of the settlement will be kept secret, and both parties probably want to put all this unseemly business behind them — hence this announcement on New Year's Eve, when the news will soon be overshadowed by alcohol and hangovers.
Here's what we do know: Chris will remain a minority shareholder in Tory Burch's eponymous company, which means he lost his crusade to cash out, but exactly what percentage he still owns is confidential. (Keeping him invested in the company will supposedly prevent his alleged "copycat" brand, C. Wonder, from becoming too competitive.) Anyway, cheers to a peaceful start to 2013, and sorry we won't be hearing more from you, Judge Strine.