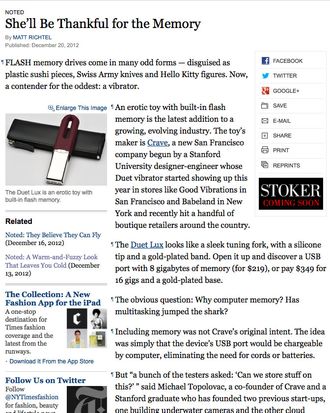 Matt Richtel, have you used the Duet Lux by Crave, a vibrator that doubles as a flash memory drive and the topic of your Times article "She'll Be Thankful for the Memory"? Have you ever met a woman before? Did you have sexual relations with that woman? Did you think, I wish my penis could also store my study-abroad photos?
Did panic grip your soul as you typed the words sleek tuning fork? When you wrote, "Open it up and discover a USB port with 8 gigabytes of memory (for $219), or pay $349 for 16 gigs and a gold-plated base," were you torn between the eight gigs and the sixteen? Was it difficult to choose between the black and the white?
Michael Topolovac, a co-founder of Crave: Who were the testers asking, "Can we store stuff on this?" Why do they need to "remove the vibrating part at the top" and "be left with what might pass at a Starbucks as just a fancy flash memory stick"? Can they not afford both a vibrator and a flash drive? Do they need me to spot them a $20?