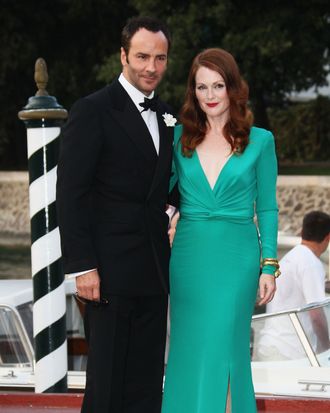 Tom Ford and muse Julianne Moore.
Photo: Vittorio Zunino Celotto/2009 Getty Images
Tom Ford has deigned to allow his womenswear show to appear on London Fashion Week's official schedule yet again, where just any old person can see when it is, reports WWD. As you may recall, behaving like a normal designer has been a long, gradual process for Ford: His initial return to womenswear in September 2010 was so hush-hush that no pictures were permitted, and the public couldn't lay eyes on the clothes until they appeared in Vogue months later. Since then, he has softened a bit each season; finally getting to the point at which he allowed photos of his spring 2013 collection to appear online mere days after his London show this past September. Perhaps this means he'll even allow photographers in this time … but we shouldn't count our chickens. Let's not forget what he told WWD back in 2010:
This fashion immediacy thing — yes, if you can order the clothes immediately, if you can see them and press a button and they can be shipped to your house, I get fashion immediacy.…I don't get the need for this immediacy. In fact, I think it's bad.

The way the system works now, you see the clothes, within an hour or so they're online, the world sees them. They don't get to a store for six months. The next week, young celebrity girls are wearing them on red carpets. They're in every magazine. The customer is bored with those clothes by the time they get to the store. They're overexposed, you're tired of them, they've lost their freshness, you see somebody wearing it and you say, "Oh, that's that jacket that was in blah, blah, blah, blah, blah." Or [a] customer doesn't want to wear that jacket that was in blah, blah, blah, blah, blah.
Blah! Or, alternatively, customers are that much more excited to wear the jacket that everyone will know is Tom Ford.