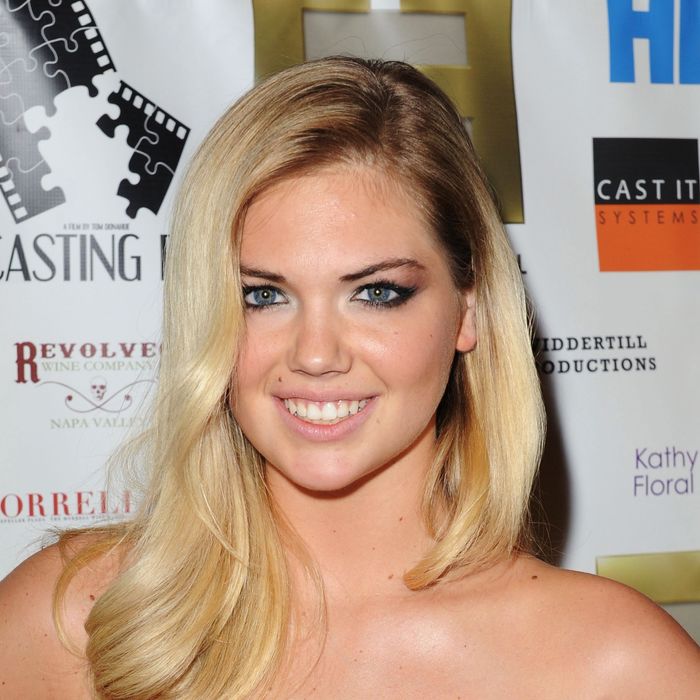 Kate Upton.
Photo: Craig Barritt/Getty Images
This morning, TMZ gleefully posted photos of Kate Upton wearing a white bikini and posing for a camera crew someplace frigid-looking, reportedly for a "super-secret" Sports Illustrated cover shoot. The shoot was so secret, in fact, that TMZ knows everything about it: It took place during a ten-day cruise to Antarctica from November 29 to December 9, and the temperature was 35 degrees below zero. As you can see, all of the people fussing with Upton's hair and swimsuit straps wore puffy coats and mittens; TMZ assures us that Upton was only sans jacket for a few minutes. For whatever it's worth, she got to wear fuzzy white boots and a fur coat most of the time.
Anyway, what on earth was Upton doing clinging to someone in an enormous plush Oreo costume (see here), which, to make matters even more confusing, is outfitted with Oreo-brand earmuffs? Really, if anyone needs more winter accessories here, it's Upton, not an inanimate cookie outfit with no ears. Is SI incorporating snack themes into their cover or corresponding spreads? Is this some kind of partnership with Nabisco? Were there guys wandering around in Nilla Wafer and Triscuit outfits, too? What's the connection between cookies and Antarctica? And if there's some kinky twist to all of this, then we really don't want to know.
TMZ points out that 2012 is the 100th anniversary of Oreos, but the next Sports Illustrated won't come out until 2013, so … we give up. But all is not lost: Our Oreos-in-Antarctica research did lead us to this recipe for Melting Snowmen Oreo Cookie Balls, which look delicious.