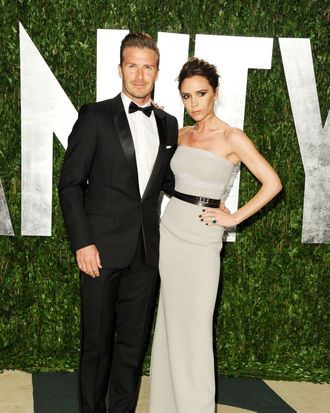 David and Victoria Beckham.
Photo: Pascal Le Segretain/2012 Getty Images
A TV special on the Spice Girls will air in the U.K. at 8:30 p.m. on Christmas Eve, presumably because discussing Posh in her pre-Beckham days is much more fun than whatever else British families normally talk about during holiday dinners. British Vogue excerpted some of Victoria's quotes from the documentary, including this one about how she had a harder time getting dates than her Spice colleagues:
There was a stage where someone wrote once how every woman wanted to be one of us and every man wanted to date one of us … Not that anyone wanted to date me — I think everyone wanted to sort of like, just brush my hair.
To be fair, hair-brushing can be much more pleasurable than dates. She also discussed her "Posh" nickname for the millionth time:
I was called Posh because I liked the nice restaurants, and the nice clothes, and that was my character. I didn't smile, even in those days. There was this very strong image — very, very strong… And I am very much that person, even now. I get ready to go out sometimes and I catch myself in the mirror and I'm like: 'Oh my God, I've turned into that person.'
And lo, there's probably a deep, philosophical lesson on personal metamorphosis to be learned here — a highbrow Christmas Eve discussion topic if there ever was one.