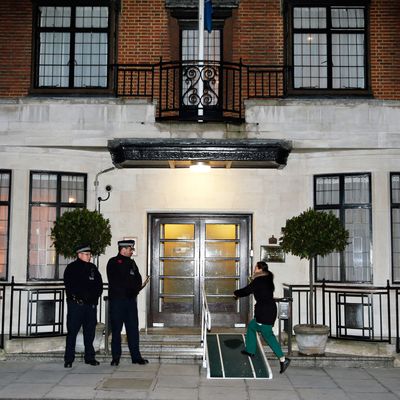 King Edward VII Hospital.
Photo: Lefteris Pitarakis/Corbis
Australian radio D.J's Mel Greig and Michael Christian have spoken out for the first time since the suspected suicide of Jacintha Saldanha, the nurse at King Edward VII Hospital who answered their prank call to Kate Middleton last week. Greig and Christian were suspended from their radio show and went into hiding on Saturday, when the news of Saldanha's death broke in Australia. Both D.J.'s were in tears during today's TV interview with Australian Channel 9's A Current Affair, with Christian explaining, "We had the idea for a simple harmless call. A call that would go for 30 seconds that we thought we would be hung up on."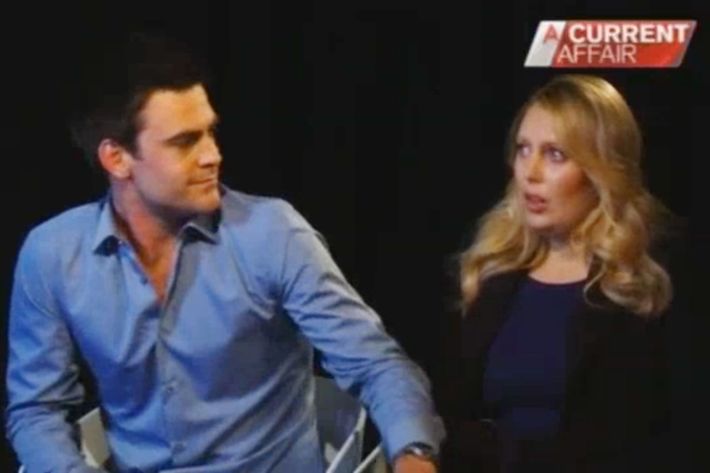 The idea for the hoax, which involved Greig and Christian imitating the Queen and Prince Charles, respectively, came up during a team meeting; it has not been attributed to any individual. Both D.J.'s insisted that their silly British accents were meant to be the punch line, and that they never expected the call to be put through or cause any harm.
When asked if she had a message for Saldanha's family, Greig said:
There's not a minute that goes by that I don't think about what that family is going through and the thought that we may have contributed to it is gut-wrenching … [I've thought about it] a million times in my head and have wanted to reach out to them and just give them a big hug. I hope they're OK, I really do.
The prank call was prerecorded and then vetted by the D.J.'s employers, 2Day FM, who edited out portions of the call to protect Kate's patient privileges. It was also reviewed by the radio station's lawyers before played on air. 
Tracy Grimshaw, the host of A Current Affair who spoke to the D.J.'s, emphasized that Channel 9 did not pay for the interview and said she felt sorry that Greig and Christian had taken all the blame for the incident. From the Guardian:
They're at a certain point on the food chain. There are other people who made the decision to put it to air. It wasn't live to air. There was a decision made after that prank call was recorded to put it to air, and virtually all the focus has been on them.
Meanwhile, Rhys Holleran, the CEO of 2Day FM parent company Southern Cross Austereo (SCA), said his employees had reached out to King Edward VII Hospital "no less than five times" before broadcasting the prerecorded material, adding, "We rang them to discuss what we had recorded." SCA has temporarily suspended prank calls on all of their radio shows and pledged to cooperate with authorities investigating the incident, but they denied any wrongdoing in a public statement released this morning:
The company does not consider that the broadcast of the segment has breached any relevant law, regulation or code. The company will fully co-operate with any investigations.
However, according to the Commercial Radio Codes of Practice and Guidelines in Australia, a station is not allowed to broadcast the words of an identifiable person without their knowledge. If an interviewee is unaware that they've been recorded, they must grant consent before the interview goes on air.
The Australian Communications and Media Authority (ACMA) is currently in talks with 2Day FM, according to Australian newspaper The Age. Federal Communications Minister Stephen Conroy said they're still determining whether an inquiry into the call is necessary.
Related: 
D.J.'s Who Pranked Kate Middleton's Nurse Are Reportedly 'Shattered' Over Suicide 
Kate Middleton's Nurse Dead of Suspected Suicide [Updated] 
Kate Middleton's Nurse Fooled by Prank Caller