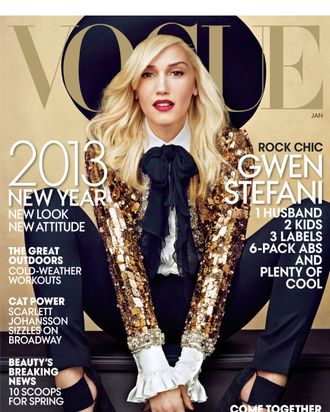 Gwen Stefani's January Vogue cover is out today! It looks great. Cut Hilary has spent twenty minutes studying the supernatural placement of "VOGUE," in between Gwen Stefani's head and her Yves Saint Laurent hat. "Fascinating," she says. So is the profile of Stefani that went online this morning. It reveals that President Barack Obama, a No Doubt fan, personally ordered up the band's performance on The Tonight Show with Jay Leno when he made a last-minute appearance in October. Who knew control of late-night-talk-show booking was among the executive privileges?
But back to Stefani. It was clear from the first mention of the "traveling Romper Room," full of "toys, strollers, nannies, and tutors" that has been added to No Doubt's tour that Vogue was winding up to a point about work-life balance. We did not expect it to be this explicit.
As usual, Gwen Stefani is totally on-trend: Like Marissa Mayer, the new president and CEO of Yahoo, who gave birth and was notoriously back in the boardroom two weeks later, launching a thousand essays and blog posts last year, she is struggling with trying to "have it all." One difference, perhaps, is how physically demanding Stefani's job is. "I did my first solo record and went on tour while I was pregnant. I would want to throw up during certain songs. Certain outfits would make me sick. It was torture. I toured until I was four and a half months pregnant, showing. I came home and had Kingston, and when he was eight months old, I went back on the road. I nursed him for fourteen months, so I would literally do my hair and makeup, go back to the bus, nurse him, put him down, and walk out onstage. And I did that for 100 shows."
The good news is Stefani reports that struggling for work-life balance is good for more than just magazine articles by and for upper-middle-class women. It's also good for rock-album-generating angst.
"I think a lot of what I was going through on the rec­ord was wanting to be who I've always been, but now I'm somebody different. I am a mother. And if you don't do it right, there are serious consequences. That's what this whole record was: trying to balance it, trying to be my creative self but also be the new me." It surprises her still that the album is not darker, given how tormented she was while writing and recording it. "Getting to the studio and not being able to make it happen, but missing out on being at home, missing out on putting the kids down. What's more important? I felt so guilty. I am letting everyone down in the studio right now; I'm letting down my kids; I'm letting down myself. Because time was so precious. So I didn't know what the album's tone would end up being in that kind of state, but it's really upbeat considering."
Vogue is much less angsty about the Native-American-themed music video for No Doubt's comeback single "Looking Hot," which offended some and was quickly pulled offline with an apology. "The video's only crime as far as I can tell is that it looks like something Cher cooked up," Jonathan van Meter writes.