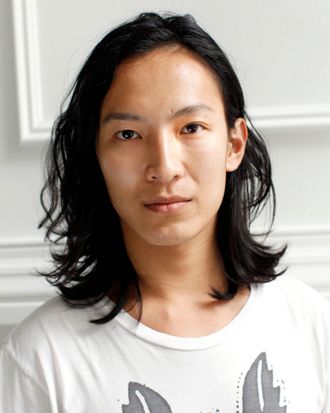 Photo: Thomas Iannaccone/Corbis
It's been four whole days since the Internet crowned Alexander Wang the King of Balenciaga (and 24 hours since the fashion house "confirmed"), and the designer has taken an active interest in his new role. CEO Isabelle Guichot told WWD he immediately asked to see the archives, wanting "to understand the culture behind the brand," and his first ready-to-wear collection is scheduled to be shown, in some sort of capacity, at Paris Fashion Week in the spring — Guichot remarked, "I don't want to put [Wang] under unnecessary pressure, so we will have to figure how we want to present. We will figure out together the pace of next year." She didn't talk specifics with WWD, saying "[Wang] will bring his own language and vocabulary" to Balenciaga. Oh, it's already been brought-en.  
Truth is, Wang's made plenty of changes at the house; in fact, I'm presently writing to you from Paris, where les gens are leaning out of their windows shouting rumors into the street, just like in the opening scene of Beauty and the Beast, and I'm Belle, absorbing all of it. Here's what's really going on behind Balenciaga's closed doors:
• Wang already finished his first dozen collections, and Cathy Horyn already finished her first dozen reviews. Spoiler: He's still "not a great designer."
• He hired Galliano! (To braid his beautiful, beautiful hair.)
• He is launching a diffusion line called Bal' by Wang.
• He ordered 65 fur hammocks for Balenciaga's directly operated stores, corners, and shop-in-shops, a great boon to the fur-hammock industry.
• He is forcing Ghesquière's remaining staff to wear shants. Always.
• He sent new sneakers to Kristen Stewart as a peace offering.
• He also told her she should "totes" let R.Patz "be free."
• Christopher Kane is secretly Alex Wang's nanny.