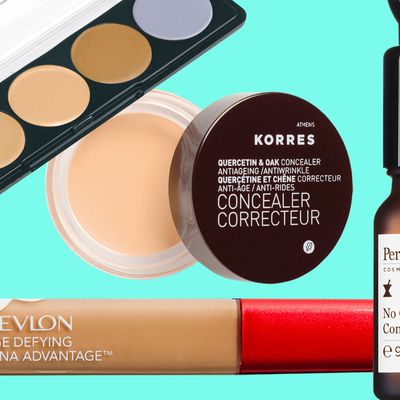 Concealers are like foundations in the sense that they both use flesh-toned pigments to even out and perfect complexions. Concealers differ in that they're more highly pigmented to target smaller, more concentrated areas rather than covering a whole face. Best used on unsightly blemishes and those persistent under-eye circles, a touch of the right concealer can fool people into thinking you drink plenty of water and get a full night's rest on the regular. The problem with concealers, though, is that you can rarely find one that seamlessly blends into your skin. The worst concealers will create blotchy patches all over the face that stand out from your natural skin tone. The very best will make your complexion look like a clean canvas.
For this Obsessive Tester, I took nine concealers and put them to task on my winter skin. Without summer's tan, my trouble spots include ruddy, wind-chapped cheeks, tissue-rubbed red nostrils, and highly visible under-eye bags. The following reviews are based on tests when concealers were applied —  with my fingertip or synthetic concealer brush — to bare skin as well as over foundation.
Not Recommended: 
Tarte Maracuja Creaseless Concealer ($24): Too thick! And weirdly glossy! It also had a slightly tacky consistency to it, like there was a bit of glue mixed in. 
Cover FX Cream Concealer ($27): Like the one from Tarte, this one also left a subtle sheen on the skin. It's also tough to blend into skin upon application, possibly as a result of the thickness of the formula. 
Perricone MD No Concealer Concealer ($45): This product touts itself as having a universal shade to match all skin tones, but as much as I tried to blend the stuff in, it still seemed a little too light and pinkish for my complexion.
Recommended with reservations: 
RMS 'Un' Cover-up ($36): All of the products in Rose-Marie Swift's RMS line use good-for-your-skin organic ingredients, which is great for covering blemishes; you won't be clogging your pores with synthetic ingredients. However, this product just accentuated the dryness of my skin by leaving behind a powdery effect. It definitely stays put all day long, so people with oily or normal complexions will love its dark-circle-covering abilities. 
Clinique Even Better Concealer ($19.50): Upon first application, the formula seemed to have a nice and creamy consistency. But it also had a thickness to it that just seemed to sit on top of my skin and highlight pores.
Laura Mercier Secret Camouflage ($30): This product has a cult following among makeup enthusiasts, but I found it a bit difficult to maneuver in the under-eye area. If you're planning on covering up a blemish, the two-toned palette, which includes a color corrector to neutralize redness, will spackle it right up.
Recommended: 
Korres Quercetin & Oak Anti-aging & Anti-wrinkle Concealer ($22): This natural product is really creamy and blends well into dryer complexions, but it doesn't have the strongest lasting power. It sticks better when you use foundation under it, but if you use it directly on skin, like I did near my nostrils to hide capillaries, it has a tendency to disappear by midday. 
Revlon Age Defying DNA Concealer ($10.99): The texture of this concealer is more liquid-y and great for people with dry skin because it has a hydrating effect. The doe-tip applicator, at the end of a lip-gloss-like tube, helps with really targeting the application, but a little goes really far, so you want to apply sparingly. Any more and it will get all over your face, like a foundation.
All-around favorite: 
Make Up For Ever 5 Camouflage Cream Palette ($38): It almost feels like cheating to include this product because there are so many color options in one palette, it's the only concealer you'll ever need. When covering up a problem area, the "corrective" shade — in my case, purple, the opposite of my skin on a color wheel — took down the sallowness in my yellow-toned face. Using a concealer brush for application, a quick dip into the skin-toned colors also created a seamless cover-up job over a zit. Even after a full day, the creamy formula didn't slide or flake off. The well-spackled zit stayed hidden but without looking caked. For the under-eye area, I preferred using my fingertips for application because the product seemed to "melt" into that area better, especially when blended in after slapping on some moisturizer.