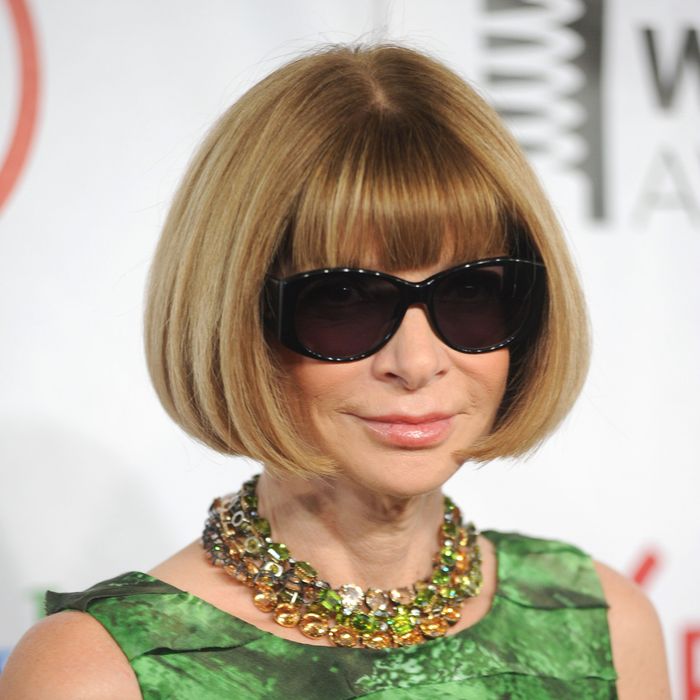 Anna Wintour.
Photo: Fernando Leon/2011 Fernando Leon
At a press conference in Washington yesterday, ABC's Jake Tapper asked White House Press Secretary Jay Carney what the president looks for in an ambassador. Especially, ahem, an ambassador to an important ally like the U.K. or France, cough, who might have, say, a blunt-cut bob, a penchant for tennis, and a knack for raising copious amounts of money for Obama's reelection? 
The briefing proceeded thus, with reporters giggling all the while:

Carney: I anticipated the question you're asking, and I will answer the question, but I can tell you in advance that I have no personnel announcements and I'm not going to engage in speculation about possible personnel announcements. I think that the president, in all of his personnel appointments, looks for talent and wisdom and character in his appointees, and he would do that regardless of the position.
Tapper: Is it important for the diplomat to be diplomatic? [Audience cackles.]
Carney: There have been enormously talented diplomats in this country's history who have not necessarily risen through the diplomatic core.
After some further back-and-forthing, during which Carney kept a straight face and the press pool continued chuckling to themselves, Tapper finally asked, "Has the president seen The Devil Wears Prada?" Carney gamely laughed and then ignored the question. After all, as Anna Wintour has said herself, "That movie was so last year."
But jokes aside, if Wintour wasn't being seriously considered, Carney would have outright denied the possibility of her appointment instead of singing the praises of past diplomats from non-political backgrounds. So… there's a chance.
Related: 
Anna Wintour for Ambassador! Ten Good Reasons
Watch Anna Wintour Talk About Gay Marriage, Sweatpants, and Batter-Fried Shrimp