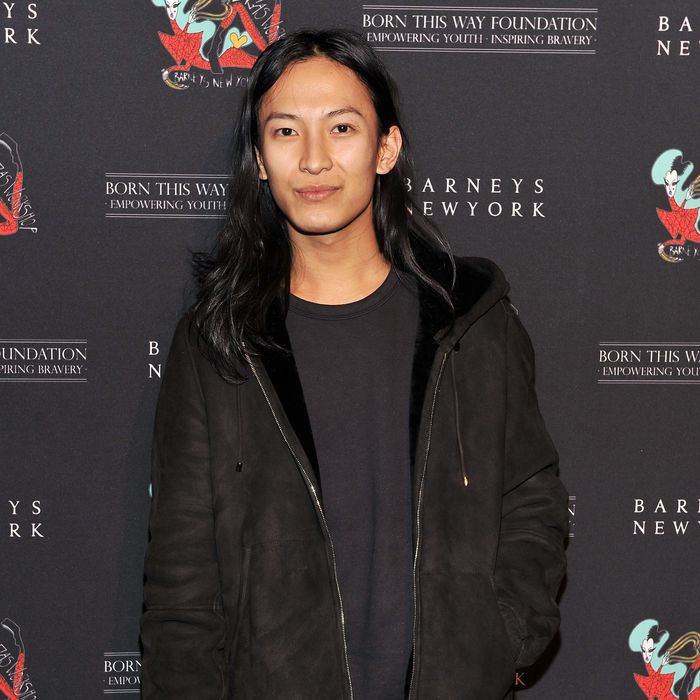 Alexander Wang.
Photo: Stephen Lovekin/WireImage
Just days after Alexander Wang's appointment to Balenciaga, PPR's François-Henri Pinault gave a lengthy interview about the controversial hiring decision to CBS's Rebecca Jarvis. The interview, excerpted in today's WWD, also reveals that Ghesquière may have been let go, which runs counter to previous reports that the designer left of his own accord:
We decided that with Nicolas [Ghesquière] it was time to separate our path. After 15 years, it was quite a noble decision.
He emphasized a new focus on the cult of personality, which is the main reason why they picked Wang — a designer whose eponymous brand is built so much around his own lifestyle.
…We really spent time understanding who is, not what is, the brand — the human being… Alexander Wang is young and he has a very universal culture. He is American with Chinese roots. His family is based in Shanghai… I like that he's young and based in New York, so we will have more exposure of the brand worldwide.
But he insists that Wang's connections in China didn't affect PPR's interest in him.
No, it is a mixture of value that Alexander will bring. [His family roots were] not a criteria for recruitment at all. 
Meanwhile, he was careful to give Ghesquière lots of credit. It also seems they're keeping a pretty tight rein on the label; Wang's not getting Hedi Slimane–style freedom, in other words.
We will not change anything in the positioning [of the Balenciaga brand.] We have spent a lot of time determining where the brand is and where we want to stay in terms of being very modern and avant-garde, but still being influenced by the street. Nicolas was one of the best at this… The brand has been built over the last 15 years with Nicolas. We don't intend to change. It's not a rupture. We plan to continue to build on what has been built by Nicolas.
He also acknowledged that Wang was a daring choice, as he has never worked for any label besides his own. Indeed, most designers get their start at an established brand before they break away and create their own; Wang has done the opposite.
It's a new challenge. It's a new adventure for him. He has a great talent. I am pretty sure that we will demonstrate it. We did that with Nicolas when we started in 1997… Usually talent starts with a brand then over time they become a little bit frustrated with the brand they are working with because it has constraints and they cannot do whatever they want. Then they feel a very strong attraction to building their own brand. Alexander has already expressed himself with the total feeling of building his own brand. Now he wants this new challenge for himself.
So, in short, Pinault said lots of nice things, as is to be expected. And while some critics have questioned the choice, no one's panned it outright. In short, everyone's willing to give Wang a chance; now he just has to deliver.
Related:
Yes He Can: How Wang Works Well for Balenciaga
Alexander Wang Confirmed at Balenciaga
Reactions to Alexander Wang at Balenciaga: Surprise, Concern