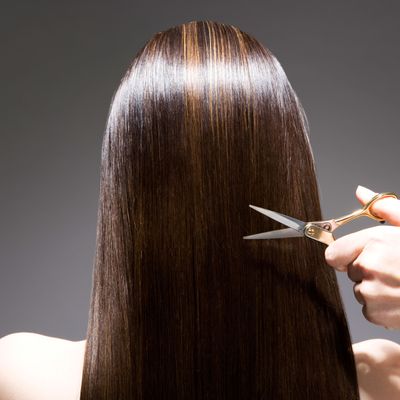 Just before Christmas I cut off six inches of hair, resulting in a choppy, chin-length bob. I had been aiming for something messy and "French" — an elusive quality that means I never have to wash it and it always looks tousled and effortless like Inès de la Fressange. What I got more closely resembles Megan Draper's ugly older sister, or Johnny Depp with a bad hangover.
I'd seen all the dramatic hair transformations of the celebs like Michelle Dockery and January Jones, and thought how much smarter they all looked with their shorter hair. For months I'd been Sharpie-drawing eyeglasses onto the Celine Ads from fall to see if Daria Werbowy's no-nonsense short bob might work on me. And then there was the recent headline-making crop by Karlie Kloss to make it all seem so daring and fun. Why shouldn't I join that club?
Yet, there are some lessons we are doomed to learn over and over again in our lives, and one of mine is this: The things that look good on models or a celebrities do not necessarily look good on me. Karlie's balletic neck is probably the length of my forearm.
The urge to change ourselves quickly and easily via our hair seems pretty universal. A trip to any drugstore in the world is a testament to the transformative promise of hair colors and dyes. Don't have time to diet? Cut your hair. Don't have money for a new dress? Get some bangs. I've cut my hair so many times into styles I've later regretted that I wonder if it might be a pathological disorder. Why didn't Freud devote some time to coining a German name for this? If more women had been publishing Byron-esque romantic poems, we'd surely have a term for the unrequited yearning for a perfect haircut that never comes. 
Sometimes I think I cut my hair in order to differentiate the years. 1999: the year of short blonde hair inspired by Jean Seberg. 2003: the rocker-bowl inspired by Karen O. 2005: the year my kids were born and I went to a Williamsburg hipster salon and got a haircut that was ridiculously too cool for the sandbox where I spent most of my time. 2009: when I bleached out the ends and dyed them fiery orange simply because I was bored.
The best thing about hair, as my mother, my husband, and my best friend all consoled me, "is that is grows." Yeah, it grows. But never fast enough. In a year I will have something that resembles my formerly long hair. In a few months, I will begin to feel better. (Maybe.) And as soon as it gets to that length I'll be itching to try something else. In the past, my hairdresser (who deserves no blame, because really he just gave me what I asked for) has suggested Viviscal to help bring my locks to my shoulders a little faster. I've used the all-natural supplement before to promote hair growth and strengthen damaged hair. It works. Luckily, in January, the company will launch a new extra-strength version: Viviscal® Extra Strength Dietary Supplements. I've preordered three months' worth already.