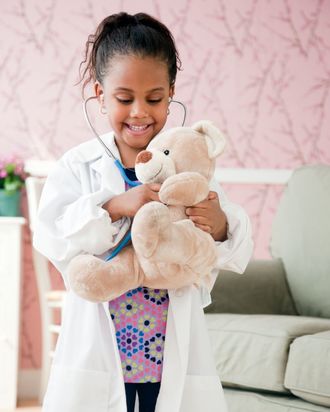 Photo: JGI/Jamie Grill/Corbis
New Census figures show that women account for a third of the nation's lawyers and doctors, in what The Wall Street Journal calls "a major shift from a generation ago when those professions were occupied almost exclusively by men." In 1970, women were less than 5 percent of lawyers and less than 10 percent of doctors. Now women hold 33.4 percent of legal jobs and are 32.4 percent of physicians and surgeons. Naturally, law school and medical schools opening their doors to women in the mid-twentieth century is mostly to thank. But the Journal also points to a less obvious cause: corporate consolidation.
Harvard Economist Claudia Goldin called the corporate sector a "great equalizer" for women in medicine, because the corporate-owned hospitals and medical practices that bought up small, male-owned independent practices have better pay parity and offer more flexible work schedules. Similarly, some women are leaving their legal firms, there they make up only 15 percent of equity partners and 4 percent of managing partners, to serve as counsel to corporations, where the hours are more predictable. Corporations are women, too, my friend?