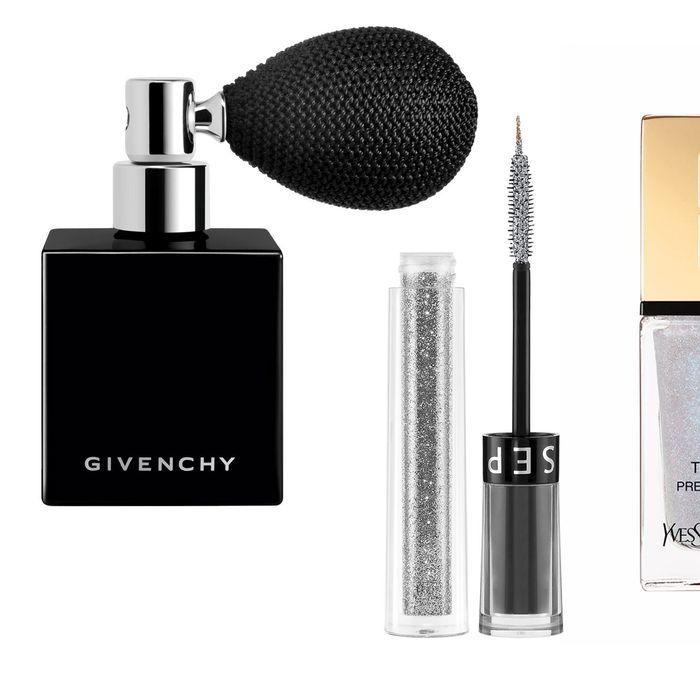 Perhaps it's the inner J.Lo in all of us, but the holidays are just another excuse to get all glimmered up for every moment. Still, this isn't the time to throw glitter in the air and then go running through it like you've won the sparkle lottery. Instead, during a time of so much excess — cookies, nog, presents — it's smart to ask but one thing: "What would Grandma think?" Here's how to add the right dose of shimmer to your beauty look without looking Miss Universe–pageant-ready.
Givenchy L'Argent Celeste ($79): A light spray of the silk atomizer will subtly dust the décolletage with silver shimmer. It can even be used to highlight cheekbones and eyelids if sprayed onto the backs of hands first, then applied with a brush or fingertips. It's easy to go overboard here into JWoww territory, so keep that in mind.
Yves Saint Laurent La Laque Couture in Premiere Niege ($25): If nail art isn't quite your thing but you still feel the need to add a touch of sumthin' sumthin' to your holiday beauty look, swipe on this shimmer-flecked polish. It gives bare nails fairylike iridescence or adds multidimensional effect to darkly varnished tips.
Sephora Glitter Eyeliner and Mascara in Sassy Silver ($13): The best way to use this product is by lightly brushing it onto the ends of hairs that have been covered in black mascara. It'll look like you've got tiny, sparkly snowflakes caught on your lashes.
Hourglass Extreme Sheen High Shine Lip Gloss in Imagine ($28): Dot this Champagne-hued gloss in the center of lips over a classic red lipstick. Then pour yourself an actual glass of Champagne. Drink. Be Merry.