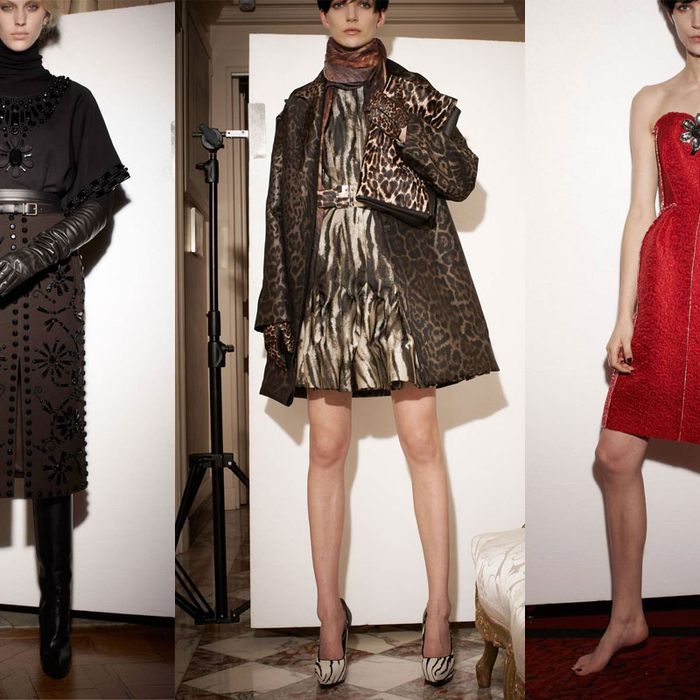 Lanvin's pre-fall 2013 collection.
Photo: Courtesy of Lanvin
Lanvin presentations are always such pleasant affairs. Instead of being shoved into a seating assignment by harried publicists, there were just two rows of unmarked bunches at this morning's pre-fall event. Gloved men served coffee and croissants. Piano music tinkled in the background while Alber Elbaz bustled around and dispensed hugs and kisses. "Stefanooo!" he said warmly, lunging in our direction; his embrace was actually meant for W's Stefano Tonchi, who was standing behind us. "How are the girls?" Elbaz asked of Tonchi's twin daughters. "They are a bit sick, actually," said Tonchi, and Elbaz made sympathetic noises. It was all very civilized and soothing, like sitting in the waiting room at a spa.
As usual, Elbaz made remarks before the presentation began; everyone seated themselves when he stood up at the front of the room, his black jacket collar upturned. "As designers, we are allowed to use emotion and intuition," he said quietly. "Or we don't, because we have marketing people who tell us what to do." (The audience tittered appropriately.) This season, Elbaz's intuition apparently steered away from minimalism. "But it's not about maximalism, either," he continued. "It's mostly just about fancy French dressing." This meant fewer dresses and gowns than usual, but lots of thick wool pants and embellished coats that fell somewhere around the knee. Also, tons of animal prints ranging from zebra to leopard to tufted fur. "Because maybe fashion is a zoo!" he explained.
As models strode out in their knee-high boots with thick, sturdy-looking heels, the music suddenly stopped. "Sorry, we will just have the same song two times!" Elbaz called out. The song, later identified on Twitter as Patsy Cline's "Blue Moon of Kentucky," wound up playing on repeat for the rest of the show, not that anyone really cared. In addition to the rich jeweled embellishments and color-blocked wool, other standout pieces included a cherry-colored dress with a sweetheart neck and a champagne-colored gown with a sculpted ruffle over one shoulder. See selections from the full collection here.