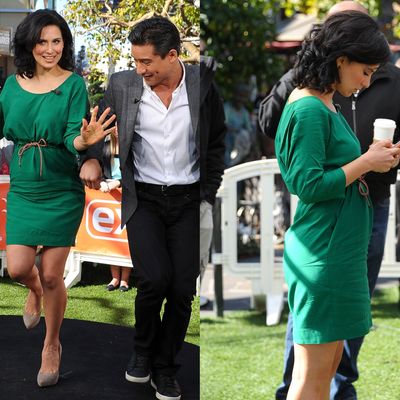 Photo: Noel Vasquez/Getty Images for Extra
Today In Touch is reporting that Alec Baldwin and wife Hilaria Thomas are expecting a baby:
"Hilaria has told only really close friends and family she is pregnant, only a close circle she trusts," a good friend of Hilaria's tells In Touch.
"Only close friends she trusts," a close friend she clearly cannot trust told In Touch. And since it's always former roommates and really close-but-loose-lipped friends who get to hear these things, this news is obviously, maybe, possibly true. To support this rumor, here is some photographic evidence of a poof around Hilaria's abdominal area yesterday. While this poof could be caused by something other than a baby bump — unflattering use of a belt, wind-up-dress inflation, or nachos from lunch — given the close-friend thing, it's definitely suspicious. Also, Hilaria just tweeted, "When love and skill work together, expect a masterpiece ~ John Ruskin," so definitely, maybe, probably a masterpiece fetus.