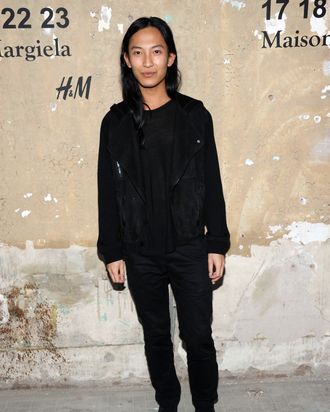 A busy man.
Photo: Jamie McCarthy/Getty Images
On top of designing his debut collection for Balenciaga, mounting his first show in Paris, doing his normal collection, and otherwise being the most talked-about and hyperexamined designer this season, Alexander Wang is designing a bag for Samsung. Granted, this probably won't add a lot to his workload, since the bag will be essentially created by other people. WWD explains:
[The bag will be] inspired by sketches and photos by a group of influencers selected by the designer… [using] the Samsung Galaxy Note II to produce the images, which will serve as a base for Wang to create a print that will be used.
In other words, Wang is generously providing his friends with free mobile devices that they can then give to someone else who doesn't already have an iPhone. (Proceeds will go to charity.) On another positive but otherwise unrelated note, Wang somehow got MADtv's Bon Qui Qui out of retirement to do a spoof video set in his store, complete with cameos by Alessandra Ambrosio, Natasha Lyonne (yessss), Simon Doonan, and A$AP Rocky. One complaint: How could she not integrate the furry hammock?