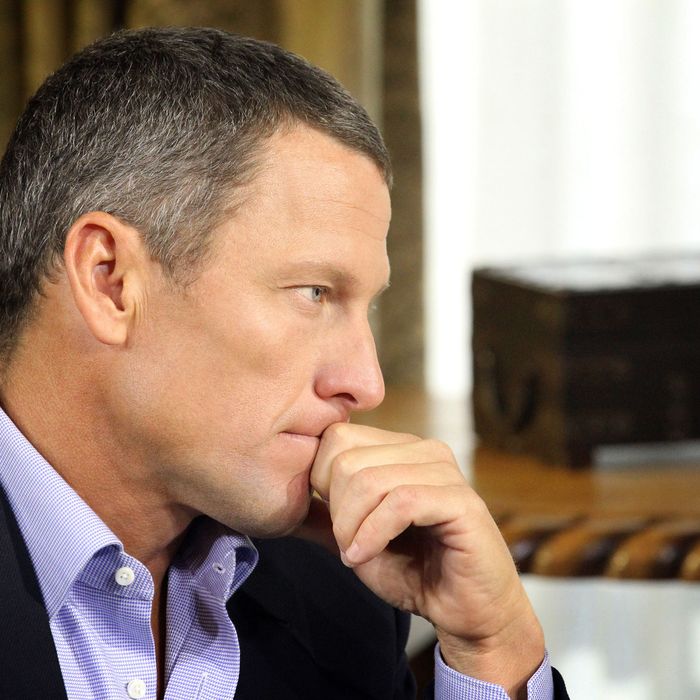 Photo: George Burns/Corbis
As a United States Anti-Doping Agency investigation revealed the details of Lance Armstrong's doping career, it became clear that the U.S. Postal team captain was orbited by a community of complicit enablers, many of them women. "You can't go outside without seeing a wife, a rider, a girlfriend, a soigneur [team masseuse], a director, a team car," U.S. Postal team wife Betsy Andreu wrote of the team camp in an e-mail obtained by The Wall Street Journal. The cyclists and their wives, girlfriends, and attendants were all so close that everyone knew where Armstrong's then-wife Kristin kept their stash of the synthetic blood-boosting hormone EPO (in the fridge; code name "butter"). Perhaps unsurprisingly, those women were also the ones Armstrong retaliated against most harshly as allegations of his doping came to a head.
One was Emma O'Reilly, the soigneur who went public with details of the team's doping in 2003. She says Armstrong tried to bankrupt her with libel lawsuits for the things he now weepily tells Oprah Winfrey are true, all true, and "demonized her as a legal prostitute with a drinking problem," according to a New York Times report. Another was Andreu, the wife of his teammate Frankie Andreu, whom Armstrong called a liar after she and her husband testified to overhearing Armstrong admit to using performance enhancing drugs while talking to his cancer doctor. "Well she said in her deposition she hates me," he explained at the time. (As for Mr. Andreu, Armstrong said he "felt" for him. "I think he's trying to back up his old lady.")
The New Yorker's Amy Davidson points that when Winfrey brought up their names in Armstrong's interview last night, there was a particular "strain of ugliness in his responses." Asked about the 2005 deposition where Armstrong called O'Reilly a "whore" under his breath, Armstrong told Winfrey that he had felt "threatened." Never mind that Armstrong was the one suing O'Reilly. "To be honest, Oprah, we've sued so many people." As for his accusations that Andreu was the scheming wife of his jealous teammate, Armstrong refused to answer, except to say that he had called the Andreus to apologize. Sort of.
"I said, 'Listen, I called you crazy. I called you a bitch, I called you all these things, but I never called you fat." Because she thought I said, You were a fat crazy bitch. And I said, 'Betsy, I never said you were fat.'
Being called fat sucks and all, but if I were her I'd be a little bit more pissed about the whole jealous lying bitch thing.