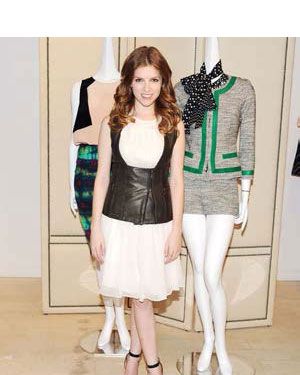 Kendrick in Marissa Webb.
Photo: Courtesy of Barney's
Anna Kendrick is the first to admit that she's not a big fashion person. "It's definitely a world I've been introduced to recently, and I'm trying to embrace it," she said at last night's party for designer Marissa Webb at Barneys. (Webb, formerly the head of womenswear and accessories design at J.Crew, debuted her own label's first collection at New York Fashion Week last September.) Kendrick picked out her dress, a floaty ivory design with a corseted leather bodice, the previous evening. "Marissa and I met last night, and I got to try on all these clothes and play with her little dogs and we had several glasses of Champagne," she said.
But although Kendrick's interest in fashion is growing, she won't be attending any fashion shows this season, and still enlists lots of professional help when it comes to getting dressed. "My stylist tries to push me towards things that are a little edgier," she says. "I definitely have to push myself away from that comfort zone of really simple, romantic dresses, and that's one of the things I like about Marissa's line. She does hard and soft."