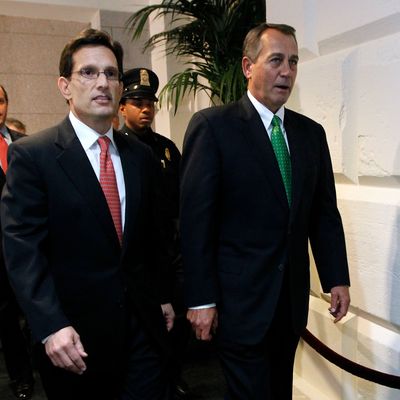 Photo: MOLLY RILEY/AFP/Getty Images
With members of the 112th Congress consumed by tax negotiations and telling one another to fuck off down to the eleventh hour, no one managed to set aside time to vote on the bipartisan, no-brainer bill that provides legal support to the victims of domestic abuse. For the first time since 1994, the House of Representatives failed to reauthorize the Violence Against Women Act (VAWA), forcing legislators to reintroduce the bill in 2013.
Though it was overshadowed by other deadlines, VAWA, which expired last September, had been in political gridlock for months. In April, the Senate passed a version of the bill that extends its protections to LGBT, immigrant, and Native American victims easily and with bipartisan support. In May, House Republicans passed their own, gutted version of the law that did not include the extensions, drawing criticism from within the party and a threat of a White House veto.
Despite personal interventions from Vice-President Joe Biden, one of the original sponsors of VAWA, Majority Leader Eric Cantor is reportedly hung up on the provision that would allow Native American tribal authorities to prosecute crimes perpetrated by non-Indian abusers (who make up an estimated 80 percent of Indian women's rapists, according to Salon) on reservations.
In an interview with the Huffington Post, Senator Patty Murray (D-Washington) vowed to reintroduce the bill in 2013, urging her girl-problem-plagued colleagues across the aisle to get onboard.