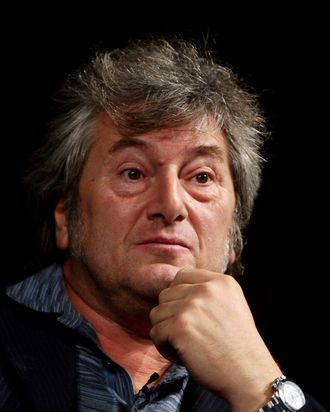 Photo: Vittorio Zunino Celotto/Getty Images
Since the BN2 Islander carrying Vittorio Missoni, his wife, two friends, and two pilots disappeared January 4 near Los Roques — an archipelago off the coast of Venezuela — search crews have found no wreckage. Today, comes a new report from Italy's Corriere della Sera: On January 10, a German tourist found a bag from the plane in Curaçao. The bag had contained kite-surfing gear, which belonged to Giorgio Neri, an Italian heading to Los Roques on a flight that took off right after Missoni's. Neri asked to stow his bag on the fashion mogul's plane because there wasn't enough space on his own.
The German tourist found Neri's bag six days later in Curaçao, about 124 miles from Los Roques. It was empty, but tagged with Neri's information, so he reached out to Neri, who contacted the Missoni family. From WWD:
Contacted on Monday, a Missoni spokeswoman confirmed that the family is aware of the finding.

"They are not drawing any conclusion. This is simply another piece of an already complex puzzle," said the spokeswoman.
Venezuela's military previously said it had pinpointed where the plane lost altitude, but with Neri's bag ending up in Curaçao, the aircraft could be farther west than initially thought. The children of those missing posted a statement on Twitter this weekend, using a TwitPic to skirt the 140-character limit:
It is now three weeks that we have no news about our parents Vittorio Missoni, Maurizia Castiglioni, Elda Scalvenzi, Guido Foresti and the two Venezuelan pilots Hernan Jose Machan and Juan Carlos Milano … Each and everyday we keep on asking to ourselves if there might still be other useful information to aid the investigations. Whoever that day was on site, whether on land on ocean or flying, might have noticed something and thought it was of no interest but that could be relevant for us and for the investigations. Every single detail is essential.
They ask you to e-mail troviamoli@gmail.com with any information.
Related: Missoni Pilot Was Licensed to Fly
Missoni Pilot's License Was Expired
Missoni Menswear Walks in Milan
Body Found Off Coast of Venezuela Unrelated to Missoni Disappearance
Good Morning America Has Last Look at Vittorio Missoni, Plane Before Disappearance
Vittorio Missoni's Son: 'My Father Will Come Back'
Venezuela: Missoni Wasn't Kidnapped
Pilot Says He Watched Missoni Plane Vanish [Updated]
Angela Missoni: 'Our Hope Is That' Vittorio 'Is Still Alive'
Plane Carrying Vittorio Missoni Has Gone Missing