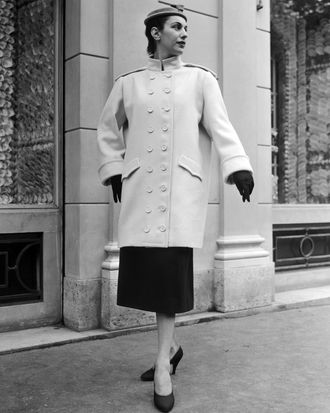 A Cheviot coat in 1954.
Photo: Stephanie Tavoularis/Corbis
A soon-to-be-released biography of Cristóbal Balenciaga, called The Master of Us All: Balenciaga, His Workrooms, His World by Mary Blume, paints a new picture of the enigmatic designer who gave exactly one interview in his 74 years. While all of the tidbits printed in a WWD preview were intriguing, this was particularly surprising:
"I was fascinated to learn that he really liked to work on rather fat bodies," Blume says.

In Blume's book, there is a photo of Balenciaga fitting fabric magnate Gustav Zumsteg's wife, Hulda, "who must have weighed about 200 pounds." The book also include[s] photos of Balenciaga's greatest innovations: the twin-seamed sleeve, the melon sleeve, the sack dress, the baby-doll dress, the dress with a short-in-front, long-in-back hemline, the balloon dress and the wedding dress with a coal-scuttle headdress.
His silhouettes weren't only revolutionary, they were also forgiving — the opposite of Dior's postwar, waist-cinched New Look — but Balenciaga's love for a real woman's shape could also reflect the mind-set at the time. Hello, Marilyn Monroe! The fashion house closed in 1968, reopening nineteen years later with Michel Goma at the helm. In a 1987 Washington Post article, Goma said, "Everything is short for spring … not short short short, but short. Too short is not very exciting for me," adding that he liked long skirts. The eighties were a confusing time; however, miniskirts do few favors for voluptuous figures, and where were the maxi-skirt-wearers going? Probably not to the clubs, where a scantily clad Paula Abdul was topping the charts.
By 1990, Goma was producing Balenciaga-worthy clothes "in couture shapes," wrote the AP, like a "royal blue bustier dress with a huge bow at the top, [with] a big bell-shaped flounced skirt shorter in front to reveal buttoned organza leggings underneath." That matches WWD's description of Cristóbal's design perfectly — even though Goma wasn't addressing those "fat bodies" in any way. In 1992, Josephus Melchior Thimister took over, doing "reefers and rather good evening dresses, but without the splendor of the old fashion grandee, in spite of the nun-like draped coifs that recall the secretive Spanish designer's past glories," according to the AP. Nothing remarkable here, though a full habit is useful for covering up Taco Tuesday.

Balenciaga's concept of size moved from one end of the spectrum to the other at the beginning of Nicolas Ghesquière's tenure, in 1997. Last year, he told the Sunday Times:
Yes, we did have a size issue. We started very skinny, it's true. Strangely, we didn't have fit models at all to … begin with — just to give you an idea of the size of the company. So we did fittings on the girls at the studio and they were often quite petite. I had a tendency to think good cut and small size, but it should be a good cut in big sizes, too. That's what I want to focus on — it's the cut, not the sizing, and if people see they can wear something in a big size, then I did my job.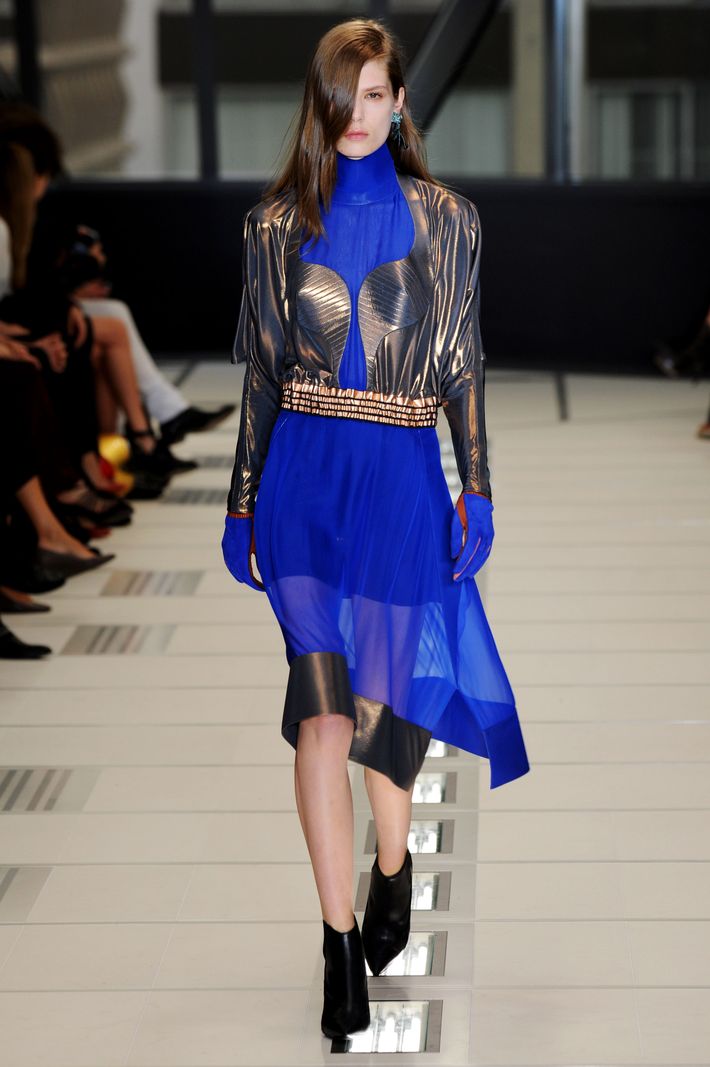 So, he screwed it up at first, but introduced (or would have introduced?) "big" sizes, which — let's face it — 200-pound Hulda Zumsteg (from Blume's book) could never get into. But Ghesquière also ushered in a new set of codes to the fashion house and operated in a world where pro-ana blogs exist. Next comes Alex Wang, and my personal anecdote: I recently bought a pair of pants from his Soho store that are a size 0, and there's absolutely no way I'm a size 0 IRL. When I mentioned this to the salesgirl, she said she had on the same pants in a size 2, and there's absolutely no way she's a size 2 IRL. She was happy; I was happy. If you're expecting me to launch into a critique of vanity sizing, it won't happen in this post. However, if vanity sizing is the first step in returning to Cristóbal's appreciation for "fat bodies," then I'm all for it.