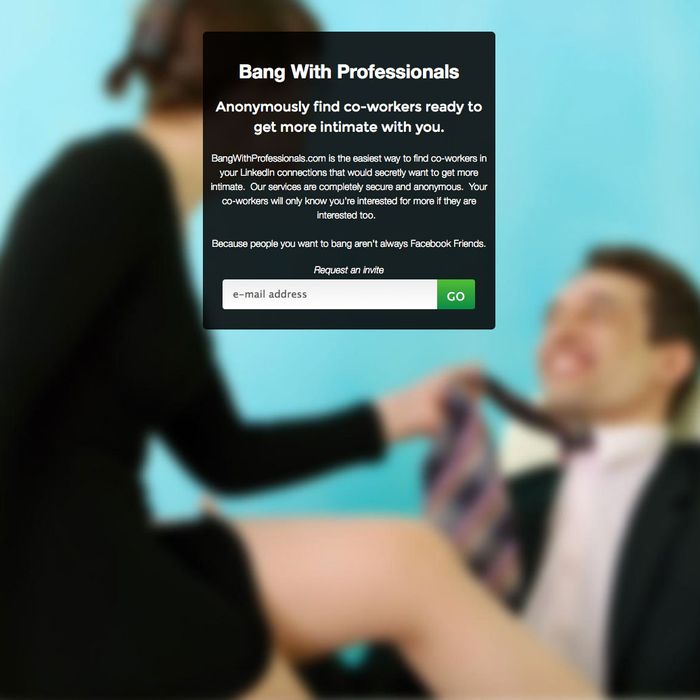 Photo: bangwithprofessionals.com
Yesterday a friend alerted me to the existence of Bang With Professionals, a LinkedIn-based matchmaking service and parody of overnight sensation Bang With Friends, the app that discreetly alerts Facebook friends of their mutual attraction. At least, I hope Bang With Professionals is a joke. It could be an elaborate trap designed by prevention-minded HR departments.
Still, immediate and wishful enthusiasm suggests that Bang With Professionals is onto something. Sex complicates IRL friendships. (A commenter points out that banging with friends will invariably yield some cringing at brunches.) But there are lots of social networks — on- and offline — that make for promising banging pools. Like work! And weddings! And Instagram! When you think about it, the "Bang With" model of dating app has a lot of potential.
For example, Bang With Friends is currently only programmed for heterosexual people. Why no Bang With Bros? The college-age founders could use the anonymous-matching system to help their gay bros find closeted members of the Greek system. And while the founders are working to make sure Bang With Friends doesn't recommend banging family members, Bang With Distant Cousins would be totally legal. Bang With Trolls could help Internet users take their rage out of the comments section or sub-Reddit and into the bedroom. Instagrammers could make a man or woman out of one of the Rich Kids of Instagram with Bang the One Percent. Bang the Bride could give the brides-to-be venting on TheKnot.com forums one last hurrah. That's five spinoffs, just off the top of my head, and not even including variations on the theme, like BangS With Friends (anonymously tell Facebook friends their fiveheads are begging for the Karlie) or Big Bang With Friends (arrange discreet viewing parties of CBS sitcom The Big Bang Theory).
Consider these free to anyone who can code — Red Bull and vodka not included.