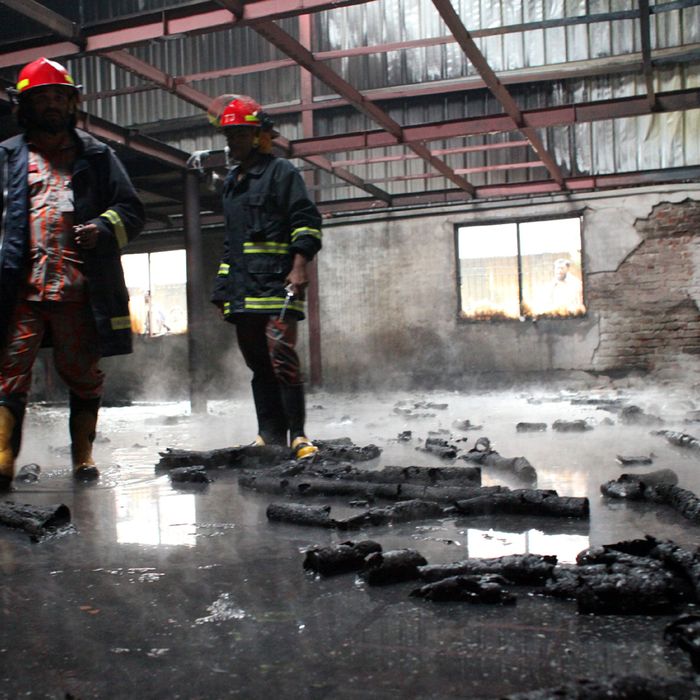 Photo: Zakir Hossain Chowdhury/Corbis
Seven garment workers died, six were hospitalized, and more than 50 received first aid after a fire at the Smart Export garment factory in Bangladesh on Saturday, The Wall Street Journal writes. The factory was said to produce clothing for several labels — among them Lefties and Bershka, which belong to Inditex (also the owner of Zara); however, Rezaul Karim, audit officer for Inditex's Dhaka office, called the place "a dump where no self-respecting brand would place an order." But:
Jesús Echevarría, chief communications officer of Inditex in Spain, admitted that Smart Exports said it appeared one of the company's Spanish garment providers, which was working with another contractor, subcontracted work to the factory.

According to Mr. Echevarría, the provider and contractor deny subcontracting. But since Inditex had indications Lefties and Bershka products were made there, the two companies have been suspended from Inditex's roster of suppliers.

Inditex has sent a team from Bangladesh and another from Spain to investigate, he said.
The cause of the fire isn't clear. According to those inside the building, the emergency exit was locked: "We all ran for the stairs, but the exit was locked … By the time the guards unlocked it, smoke had filled the room. There was a mad rush. I tripped and fell. People were stepping on my body. Then I lost consciousness. Someone must have pulled me out," 20-year-old Rozina Begum told the Journal. The Washington Post reports that Altaf Hossain, father of one of the deceased, filed a police case against Smart Export's three directors for negligence. The factory reportedly had no fire-fighting equipment, no fire safety license, and no factory license.
Two months ago, a blaze at the Tazreen Fashion Ltd. in Bangladesh — which had no emergency exits —killed at least 124 people and sparked protests. Since then, there have been eighteen nonfatal factory fires in the country, the Times notes. In a statement, Judy Gearhart, executive director of the International Labor Rights Forum, said, "After more than two decades of the apparel industry knowing about the risks to these workers, nothing substantial has changed." It's also more than a century after the Triangle Shirtwaist Factory fire, but who's counting?