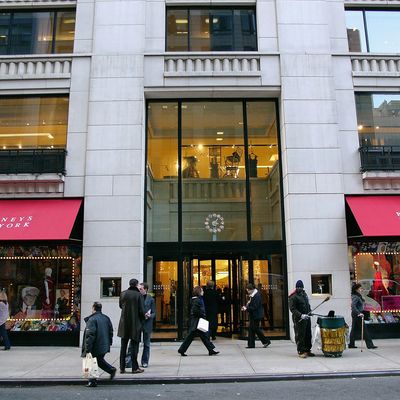 Great news for anyone who has trekked to a Barneys outlet in some far-flung location, or stripped to their underwear at the biannual Barneys warehouse sale: Starting Monday, you'll be able to shop their leftover inventory online, permanently. WWD reports that the retailer will launch Barneyswarehouse.com to attract costumers who don't live near one of their thirteen existing outlet stores — or just those of us who would rather get their discounts online.
You may recall that Barneys put their most recent warehouse sale online for two weeks last August; it turns out that was actually a practice run for a full-time site for liquidating past-season items that didn't sell. In other words, it'll be like the Barneys version of the Outnet, with items marked off up to 75 percent. And if you still get a rush from rummaging around those overcrowded racks, you'll be glad to know that the outlet stores aren't going anywhere, and neither will the warehouse sales every August and February.
Barneys COO Daniella Vitale says that the discount site is part of their larger plan to expand their e-commerce. "The online business is explosive and the fastest-growing business we have," she told WWD. (The reasons for this are obvious, of course. People like to shop online.) She also brushes off suggestions that the discount site could damage their full-price business, because their research indicates that many customers shop at both price points. If anything, the warehouse will just expand their customer base, attracting us normal folks who otherwise would (or, um, should) consider Barneys way out of their price range.