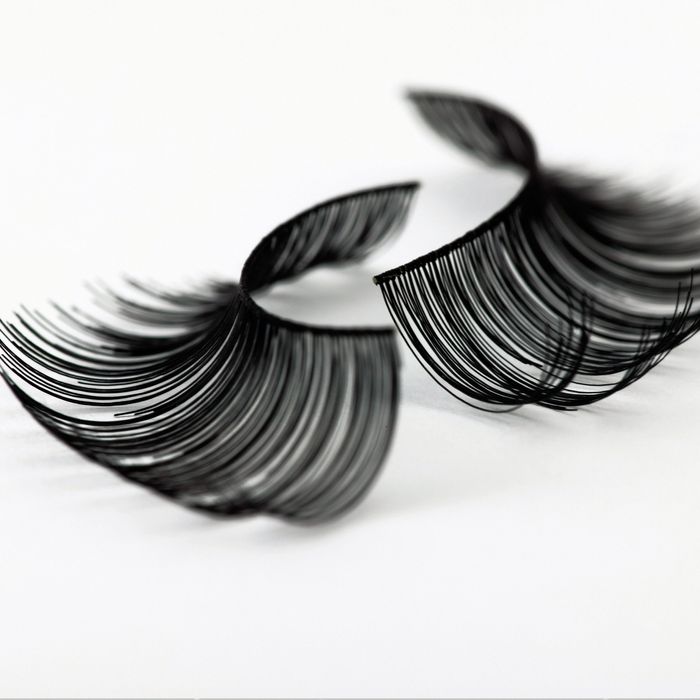 Q: How can I make false lashes look real (and not tacky or heavy) for work?  
A: When applied the right way, fake lashes can look lush and sophisticated (consider Michelle Obama or Beyoncé at the inauguration), and seem much more natural than wearing multiple coats of mascara. The trick is using just a few individual lashes rather than a whole strip of them, and customizing the hairs to fit you perfectly. 
"Less is more, especially for day," says NYC makeup artist Gregg Hubbard. "Individuals create fullness and definition, and give the eyes a lift, while a full strip can look over the top, especially at work." First apply one coat of black mascara ("this makes blending in the lashes more seamless"). Then try the lashes in small groups. "The light adhesive on the base of the lash cluster is perfect for testing placement, size and shape. (Individual lashes come in different lengths, and medium usually works for most people.) With a pair of tweezers, position three or four clusters, starting from the outside corner inward to the midpoint of the eye. If you like the look, go for the glue."
Hubbard recommends white Ardell eyelash glue, which dries clear, and then a light coat of mascara to blend it all together. "If you're just starting out and you're a little bit nervous, Ardell makes a lower false lash that you can use on top. They're a little shorter but will give you that fullness without a lot of length, so they look very natural — we're not going for Snuffleupagus look." On the contrary, Hubbard will often use false lashes instead of an eyeliner, since it looks more natural.