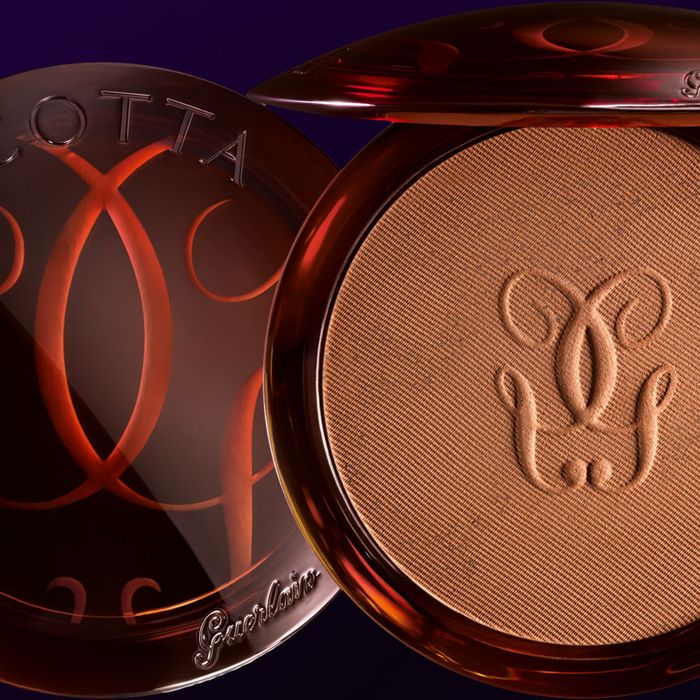 Q: Should I put away, or dial down, bronzer during the winter? My skin looks so pasty and drab right now, but will a bronzer make it look ridiculously faux-tanned in February?
A: "Never put bronzer away! You need a powder bronzer year-round — in the summer to enhance a tan, and in the winter to warm up your pale or sallow complexion," advises Rihanna's makeup artist Mylah Morales. "It's one of my favorite tricks for getting glowy skin." She recommends using a lighter bronzer in the winter — just a shade darker than your natural skin tone. "If it's too dark, it will look orange or totally fake." And choose a powder over a liquid formula since it's much easier to apply. She uses Guerlain Terracotta Bronzing Powder because "it's lightweight and has the tiniest bit of subtle shimmer that makes the skin look luminous."
Most importantly, don't put it on the wrong way. Most people use a big fluffy brush to dust bronzer all over the face and neck like it's translucent face powder. Wrong. "I use a Nars or Japonesque kabuki brush because the denser bristles evenly distribute the color, and I can control where I want it to go. I just graze bronzer on the cheekbones, temples, and the bridge of the nose, the places the sun kisses your skin naturally. I also sweep it very lightly across the jawline and down the neck to contour and shape it a little bit." Your skin will look healthier immediately, but not overbaked. The secrets to an understated, strategically applied sunny glow.