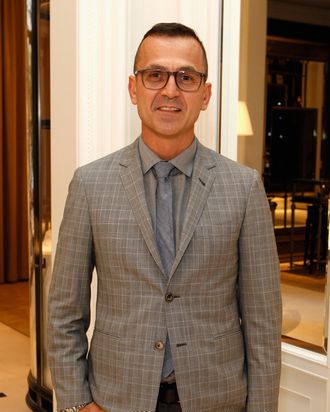 Photo: Mark Von Holden/Getty Images
As 2012 was coming to an end, Steven Kolb, the CEO of the Council of Fashion Designers of America (CFDA), showed the Cut around the organization's new Bleecker Street office, inside famed architect Louis Sullivan's only New York building. "It's like a community center for fashion," he said, noting that the council's members have already been using the office to do interviews and show their collections, pinning portfolio pictures up on the red fabric walls. We sat in little leather meeting "pods" — like very chic padded cells in their sleek, strangely soothing isolation — and gazed out the floor-to-ceiling windows of a conference room overlooking lower Manhattan. The CFDA's signature red, black, and white are prominent, upon President Diane Von Furstenberg's insistence, ("She's big on the branding thing," Kolb explained) as is their life-size CFDA award — a sculpture by Ernest Trova — that has finally stepped out of its Secaucus, New Jersey storage facility.

Technically, the CFDA is a nonprofit servicing the fashion industry, and although the new office looks much more "fashion" than "nonprofit," Kolb said their budget was basically nothing. "We're very used to asking people to do stuff for us stuff for free, or give us stuff cheap. That's kind of our business model: Pay us money to do stuff with us and if we ask you to do something, do it for free," he said, name checking the generous lawyers, brokers, architects, framers, furniture manufacturers, and technology companies that donated to the new office, as he admired his giant new monitor.  "I don't even know how to use half this stuff," he said, laughing. Kolb walked us through the workspace, and talked about why he and the CFDA really need a nice office, anyway.
A lot of people have heard of the CFDA, but may not be aware of what it is you actually do.
Our charge is the 450 designers who are members of the CFDA. They're our masters. The CFDA is like calling 1-800-FASHION-HELP. We're customer service to the industry. Whatever the question, or the need is, we try to answer and help — within the context of the programs. I always like the CFDA Fashion Fund Awards, and we're about to get into the production on that right after the new year. But the focus has been the professional development: things like PR 101 or HR basics, to more complex things like doing business in Asia, international expansion, "how to know you're investment-ready" — programs that bring knowledge to the members.

And do you think you'll be hosting more events, now that you have the new space?
Totally. That's really our priority. Now that we have [this] community center, it's motivating us to do that. We said to the membership: This is our office, but it's also their office. Jeffrey Banks, who's a member, he's been working on a book on Perry Ellis, and he needed a big space to do some interviews. So he's been scheduling the conference room. We have our board meetings here now. We have programs, seminars, and panels. [Before] we'd have to go to Soho House, or the Andaz, or the W.

And what about being away from the Garment District?
As you know, where we were [on Broadway and 39th Street] was really a fashion neighborhood — the garment district. We prioritized our search in that neighborhood. But we didn't find anything that had the openness. Everything is very cut up and clustered there. When our broker found this for us, there was nothing you could argue against it being a good deal. The garment district is a great neighborhood. We still have our Fashion Incubator there, so we still have a home there and a presence there. But this [new neighborhood] is like, guys with long hair on skateboards, and dogs. It's very New York, picturesque.

How is it being the only guy at the CFDA?
It's good because I get a lot of attention, and it's bad because I have to give a lot of attention. You know, it's like I'm in a relationship with eleven women. So I like that, but sometimes I need to get away from it. 
You came from nonprofit work at MTV to the CFDA in 2006. Did you go out and get a lot of new clothes?
Because I really loved my job at MTV, I didn't obsess about my [first] interview for this job. That second interview, I thought about it a little bit more. My first interview with Women's Wear [Daily], I thought about it a little bit more. And I didn't know where to go! I remember going to Macy's and buying, like, a shirt. I think I always had great personal style in my own way. I mean, I know designers now who are friends. I'm lucky that I have connections to them, and I can ge 'industry discounts' or preorder. So, yeah, I would say that my closet has expanded.

Is there one quality you think successful designers like them share, or something you really look for in newer designers?
I think it's focus on the product. That's important, having a DNA around the brand, and it being recognizable as that designer's work. Me personally, I like a bit of humility in people. I like people that, as they get more and more success, they stay grounded. They're still that same person that they were when they were just starting.

On the flip side, is there one challenge that you see often?
I'm going to say this as a plus and as a challenge. I think the idea that a designer has to be their own personality, or their own celebrity, the face of a brand, is more important now than ever. I think that started with Bill Blass and designers when they started to do campaigns and ads. No one can speak better about a designer's projects than a designer him or herself. There's a line to that, when you cross over to celebrity. You have to be really careful. Or choose! And that's okay, if [a celebrity] is what you want to be, be that person. But then it's different than being a designer.

So what about painfully shy designers?
I've seen painfully shy designers! I'm shy! You just have to turn it on. And that doesn't mean to have to be fake or phony, you just have to pump it up a little bit. I went to something last night, and it's the kind of thing I don't typically go to. It was a sit-down dinner. I got seated next to someone I didn't know, and after a while there's only so much I can talk about. And then I started to get anxious because it was getting late and I had to get up in the morning and all that kind of stuff. But it's all work, and at the end of the day you're going to go home to your husband, or boyfriend, or dog or whatever and it's over!

It's funny, because the fashion industry has such output of outrageous personality, but it's really just a lot of —
Normal people. But you know what it is? I think that all that personality, there's always got to be a flipside to that. There's the vulnerability, right? So if you're a designer, you're creating something, just like an artist or someone who releases an album, makes a movie, and you're going like, "Here, public. What do you think of it?" And then you wait. And you get judged! You have all of this creative energy but you're also then shrinking to this vulnerability.

Will a big house like Balenciaga ever call the CFDA and say, "Hey we're launching a search for a designer. Who should we be thinking of?"
Balenciaga hasn't called. [Laughs.] But there have been many others that have called us and who have asked us about people we know. We do that all time, and that's part of our mandate: work and job opportunities for our members, so we work with a lot of partners. Li & Fung is one of our corporate partners. We work with them. We put together Narciso and Kohl's. Derek Lam will be in Kohl's in the spring.

Can you talk a little bit about your relationship with Vogue and other fashion magazines?
Only designers can be members, but Vogue is a really important partner. Anna [Wintour] has been a really true friend to CFDA. We also have relationships with the other magazines. I just met with Joanna Coles at Cosmo. We work with all magazines. It just so happens Vogue is a very powerful magazine.