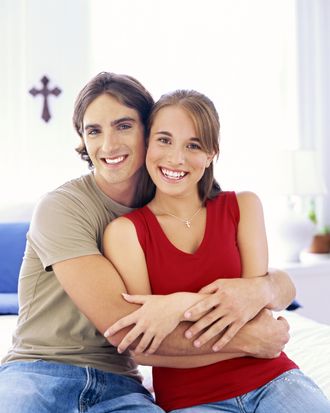 As eHarmony distances itself from Christian group Focus on the Family, Spark Networks, the parent company of popular Jewish dating site JDate, is throwing its weight behind Christian dating site ChristianMingle. This week the Washington Post and CNN took note of the site's $30 million advertising blitz, which promises to "Find God's match for you." It's certainly a tall order, but reporters wondered if it might also be false advertising.
In response, ChristianMingle's spokeswoman has been offering a weird blend of Internet-era religious doctrine and legal disclaimer. "God can orchestrate and use the medium of Christian Mingle to allow people to find their match for one another on the site," Ashley Reccord explained to CNN. "He may or may not use that means, but he can use that means." Access to the medium that God may or may not use will cost users $18.99 a month for a three-month subscription.
According to the Post, ChristianMingle has become the biggest of Spark Network's 28 dating sites, which serve niche groups like Adventist singles, deaf singles, plus-size women, single parents, military personnel, and more, in part thanks to the revenue generated by JDate, "the engine behind ChristianMingle's 'God' campaign." "Spark has plowed revenue generated by the older, more established JDate into promoting the Christian site," writes the Post's Paul Farhi. (It's also a pretty good metaphor for the history of Christianity, period.) Nonetheless, ChristianMingle has quickly eclipsed JDate. It has more than 5 million members, 40 percent of whom joined within the past year.
Unlike eHarmony, which admitted users looking for same-sex matches after a rash of discrimination litigation, ChristianMingle's homepage offers two options: men seeking women and women seeking men.