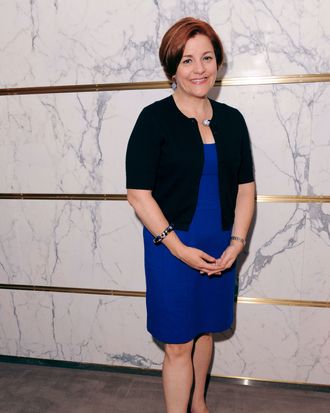 Photo: Steve Eichner/Corbis
Good news: Mayoral hopeful Christine Quinn has not been scared off fashion forever by jokes about her New York magazine cover. She told the New York Post — one of the image's loudest critics — that she's glad she's a woman, because at least she has some sartorial options.
"I'd rather be a woman in politics than a man in politics. All they get to do is wear the same old boring blue, gray, tan suits over and over again. The thrill of their life is picking a tie. We've got pins and earrings and bracelets … I feel bad for them. And the one thing they get to pick is choking them all day."
As for the blowback over the glamorous treatment, Madam Speaker said, "I don't think it's sexist at all." It totally is, but it's still nice to hear a female politician acknowledge that clothes exist — as opposed to the Hillary Clinton school of denial on principle — without fear that talking about them will immediately make everyone forget all about her intelligence and competence. If only her male colleagues would put on something interesting enough for us to make fun of!