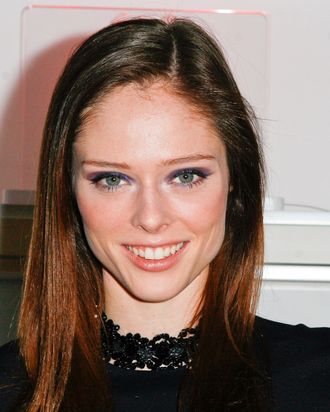 Photo: Edward Le Poulin/Corbis
The model — and mentor for Oxygen's upcoming series The Face — sat down for the latest issue of DuJour magazine to discuss, among other things, her faith. Rocha was raised a Jehovah's Witness and baptized into the religion four years ago, and she continues to go door-to-door each week with members of her congregation to talk about her beliefs. "There aren't many Witnesses who are in the public eye," she told DuJour. "I can't even name any … So, yeah, it's hard sometimes when you're there alone. You're not there with someone who can hold your hand and say we'll do this together."  
Maybe it was Jehovah, or the good head on Rocha's shoulders, but several years ago, when "there was a point where [she] just wanted to be done with the industry" because she felt no one was listening to her, she set up some boundaries for what she would and wouldn't do:
In the beginning, the clients would say, "This is too much," but over time, the ones I liked kept working with me. They'd say, "It's not too much. Coco can still be Coco. She still gives 100 percent when she's on a photo shoot." It's just my boobs aren't out. And I don't have a cigarette in my hand, and I'm not making out with a guy. And it's all fine if you want to do that. I don't judge. My besties do Victoria's Secret. I just don't do it.
She added, "My list [of what I won't do] compared with any other model's is insane. No religious artifacts, no government artifacts. If I'm shooting with a male model, what is he exactly doing with me?" And she admits that she gets "a little panicky" on set with all of her guidelines; however, isn't it so refreshing? A model who's doing well and has morals?