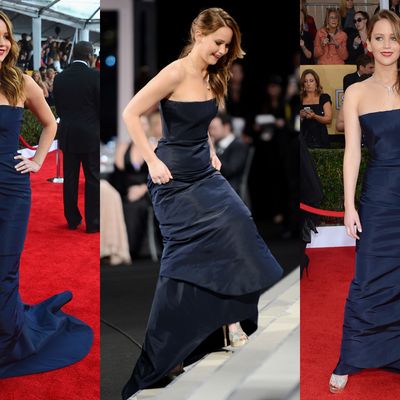 All is well in Dior-land.
Jennifer Lawrence was one of two actresses to wear less-than-a-week-old couture gowns at the SAG Awards last night, the other being Anne Hathaway, who wore a Giambattista Valli dress only six days after it was shown in Paris. A face of Dior since October, Lawrence has busily pledged her allegiance to the brand throughout awards season, getting first dibs on a bunch of Raf Simons's designs. The navy strapless outfit she wore last night was made of several separate panels of overlaid fabric, one of which she hitched up while walking to the podium to accept her award, revealing a sheer layer beneath it. Thanks to camera angles on the stage, it looked like her dress temporarily ripped, but when the layer fell back into place the dress looked fine again. 
Of course, several blogs observed the flash of leg and determined that her dress was in tatters, practically falling off her body before the eyes of millions. But as you can see from this video, all was well within a matter of seconds. Carry on, everyone.
See the full Christian Dior spring 2013 couture collection here.