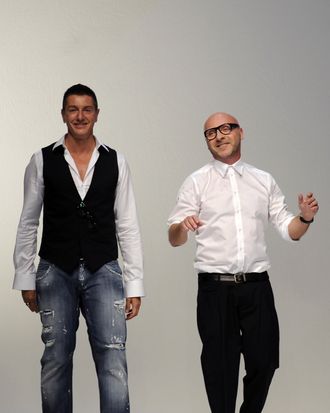 The never-ending tax-fraud trial against Domenico Dolce and Stefano Gabbana proceeded today with a court hearing in Milan, where members of the Italian IRS accused the designers of hiding their earnings to avoid taxes. Such topics are deadly boring, so we'll sum it up quickly: In 2004, the designers sold their brand to Gado Srl, a "Luxembourg-based holding company" — or so they claimed. Tax officials believe that Gado is actually operated in Italy, and the whole transaction was basically a front to give the Italian IRS the runaround. Luxembourg's corporate tax rate is 4 percent, compared to Italy's 45 percent, which gives Dolce & Gabbana plenty of motive to pull this off.

As for proof, Italian officials have several e-mails indicating that Gado was managed in Italy, and cited the suspiciously "below-market" price that Gado got for Dolce & Gabbana. The prosecutor not only implicated the designers themselves, but also Domenico's brother and board member, Alfonso Dolce, and managing director and board member Cristiana Ruella.

As usual, the designers were not present at court, apparently choosing to uphold their attitude of pretending the case "doesn't exist." Their lawyers have denied all charges. Two more hearings are scheduled for February 6 and February 20 — just in time for Milan Fashion Week.