Flame-Colored Dresses, Mesh-Covered Cleavage at Critics' Choice Awards
The exuberant red carpet outfits at last night's Critics Choice Awards sent a clear, blazing message: It's awards season, everyone! Flash your freshly whitened teeth, square your spray-tanned shoulders, and shimmy down that step-and-repeat wearing the stuff dreams are made of. These actresses get first dibs on the most beautiful dresses in the world, and we get to see them relish it. 
Two clear trends emerged from last night's parade of actresses: bold scarlet is THE color, and if you're going to wear black, it had better have some cutout action in the boob area. Red dresses make sense: It's a regal, striking color, more energetic than its blue-based counterparts and easier to swallow than yellows and neons. Jessica Chastain's bejeweled Prada version was a bit sacklike, while Helen Hunt's lace-paneled Philip Armstrong gown was bold and unfussy. Sally Field, on the other hand, looked ready for a PTA meeting, but a nice one, where parents dress smartly and serve tea and cookies.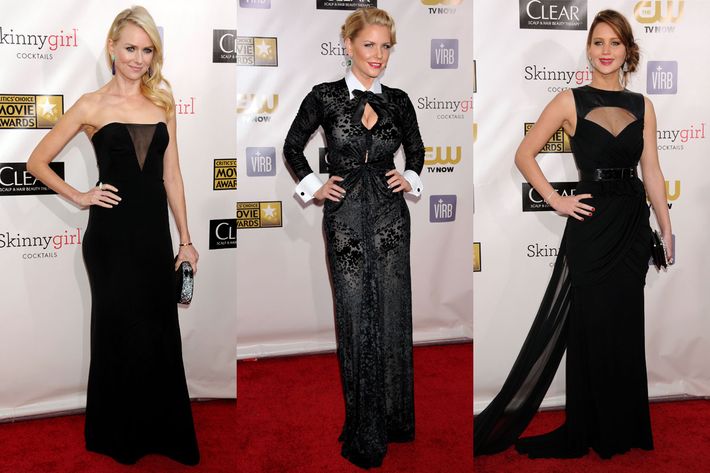 The black cut-out trend was the sexier of the two, attracting Jennifer Lawrence in Prabal Gurung, Naomi Watts in Emilio Pucci, and Carrie Keagan. Lawrence, whose hair is lighter these days, smiled a lot to counteract the severity of her dress. Meanwhile, Watts looked like she'd raided Jennifer Aniston's now-black-filled closet, but the result was clean and elegant. As for Keagan — if her cleavage needed to breathe so badly, why go through the trouble of fastening that top button? 
Click through our slideshow for most superlatives from last night's red carpet.