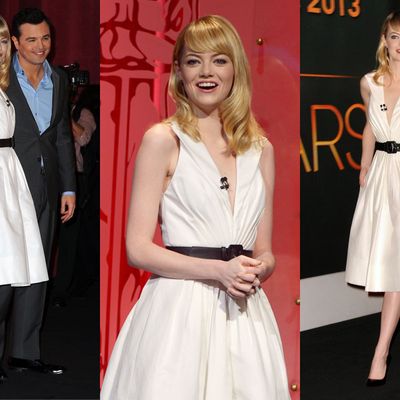 Emma Stone.
Photo: Kevin Winter/Getty Images
We cringe to imagine what time Emma Stone's alarm went off for hair and makeup this morning before she announced this year's Oscar nominees with Seth McFarlane at the AMPAS Samuel Goldwyn Theater in L.A. (They did so live at 8:35 a.m. ET, or 5:35 a.m. in California.) She wore a crisp ivory dress with a deep V-neckline and foldover lapel by Paris-based, Singapore-born designer Andrew Gn. Accessorized with a black belt, plain black Louboutin pumps, and a black microphone pinned to her lapel, she managed to look fashionable, formal, and morning-appropriate — an impressive feat, considering all this happened before anyone on the West Coast was even awake.
Anyway, well done, Emma, for setting a high standard for Oscar dresses this year. Now that all the nominees are out there, we can start speculating about their outfits. We already know that Proenza Schouler has their eyes on Jennifer Lawrence, but there's a strong chance she'll go with Dior, since she has a new contract with them. Anne Hathaway, of course, will be a major "get" for any designer, and Naomi Watts and Amy Adams are always up for experimenting on the red carpet. Meanwhile, Jessica Chastain could go with Saint Laurent, since she's the face of their Manifesto fragrance, but she's often a toss-up when it comes to awards shows. And hey, Helen Hunt and Sally Field! Both are usually pretty conventional when it comes to eveningwear, but maybe they'll surprise us. See all the actresses whom designers will be clamoring over, below.
BEST ACTRESS 
Emmanuelle Riva, Amour 
Jennifer Lawrence, Silver Linings Playbook
Jessica Chastain, Zero Dark Thirty
Naomi Watts, The Impossible
Quvenzhane Wallis, Beasts of the Southern Wild

BEST SUPPORTING ACTRESS 
Amy Adams, The Master
Anne Hathaway, Les Misérables
Sally Field, Lincoln
Helen Hunt, The Sessions
Jacki Weaver, Silver Linings Playbook