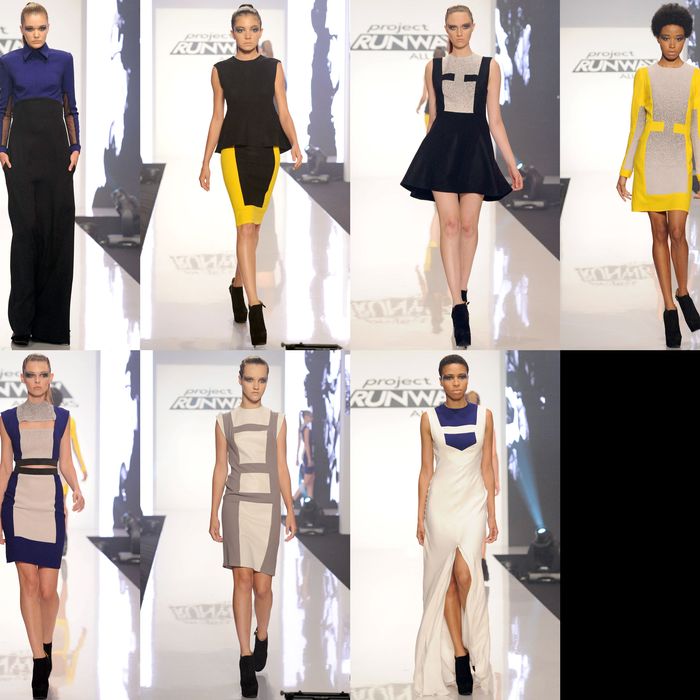 The designers are given $3,000 and have four days and free rein to create whatever kind of mini-collection they want, down to the number of pieces they'll show. This makes sense, because the fewer parameters in place, the easier it is to declare Anthony Ryan the winner. It's like playing Candyland with your older brother, who keeps changing the rules every time he's losing.
Back at their hotel, the designers pull out their HP tablets for one last brainstorming/product placement session. The theme of Uli's show will be Winter Wonderland, with lots of whites, creams, and detailing. Emilio's theme is Urban Plantation and is in tribute to his mother, who worked in factories for 30 years. And Anthony Ryan's collection is called the Thin Line, and is about "the light and the dark place that you balance yourself." Of the three, his sounds the least like a viable theme for a cohesive collection, but there's no time to fret about that, because it's off to Mood.
There's drama right away once the designers get back to the workspace; Carolyn shows up to inform them that they'll each get to choose one assistant. All the previously eliminated designers trudge back in for a schoolyard-style pick, but when Anthony Ryan tries to pick Joshua, he shakes his head and says he's just too tired. Emilio points out that you have to be in a pretty dark place to refuse your best friend your help, but both Joshua and Anthony Ryan defended Joshua's choice on Twitter, citing exhaustion from the Paris trip. Anthony Ryan chooses Kayne instead, and Uli chooses Cassanova who, when asked if he'll come back, says, "Yes, because I'm brown nose." Emilio chooses Althea.
Hilarity immediately ensues between Cassanova and Uli because their styles are so different — he first offers to do patterns for her, and she responds that she never uses patterns, which sends him into a state of (mock?) outrage. He complains about not having his toolbox, and when Uli shows him her (admittedly small) pouch of sewing tools, he fumes, "She has nothing! I thought that was from your daughter! Go to the child care!" Oh, Cassanova. When you're nearby, looming tragedy seems bearable.
Joanna comes by for her final round of critiques and immediately makes Uli promise to save her the fake-fur vest she's making. (I'm not sure Joanna Coles would actually wear fake fur, but it's still a nice gesture.) When Joanna expresses concern about Anthony Ryan's black and yellow dress, he says, "Yeah, I thought it was a little bit bumblebee, but now it seems more like Speed Racer." Judging from the look on Joanna's face, this is not exactly an improvement. She's very excited by the concept of Emilio's collection and the depth of thought he's put into it.
There's a brief, obligatory montage where each designer talks about why they want to win: Emilio wants to give back to his parents, Uli wants to finally transcend the experience of growing up behind the Berlin Wall, and Anthony Ryan wants to win because otherwise he "can't do this anymore." Seriously, All Stars producers? Out of those backstories, you decided "I need to win because otherwise I'll have to get a day job or something" was the most compelling narrative for your winner?
Finally it's the day of the runway show, and a spectacularly overdressed Carolyn introduces guest judges Liv Tyler and Margherita Missoni. It's a strong final three, as I've said, and each show is very good. Emilio's features American-influenced fabrics, bold colors, "Dorothy Dandridge–style do-rags" (his description), and menswear-inspired womenswear. Anthony Ryan's collection is bold, graphic, extremely well-sewn, and very similar to what we've seen from him all season. Uli's winter wonderland is a weird, ethereal mix of fabrics and textures.
It's the strongest Runway franchise finale in recent memory, and all three designers are very talented, but it's Uli's show that really feels like a collection, not a made-in-four-days assemblage of looks. Elie Tahari, who's in the audience, agrees, saying that Uli's show could be on any runway in the world.
The judges, of course, don't agree with that assessment, and that means that the moral of this season — and probably all seasons of Runway and All Stars — is either "fashion is really subjective" or "reality television is rigged." It's probably both. That doesn't make it any easier to hear the judges criticize collections as "cheap looking" when the designers only had four days to work, and it certainly doesn't make it easier to hear Isaac refer to one of Anthony Ryan's looks as "the best dress I've ever seen on Project Runway." Seriously? Ever? In the end, Uli is the second runner up, followed by Emilio, and Anthony Ryan is the winner — or, as Uli said on Twitter, the recipient of Lifetime's "golden handcuffs." Preach.
Click through the slideshow to see all of this week's looks!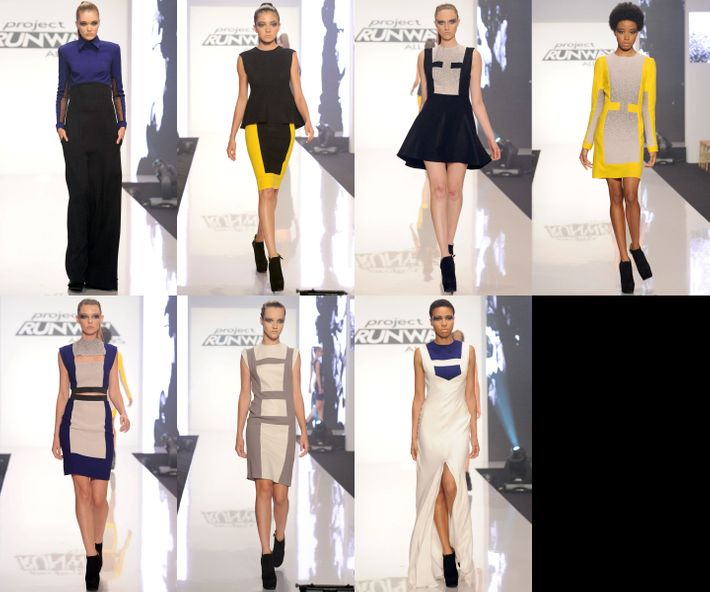 Anthony Ryan Auld – Winner
Isaac said that the black and blue dress in Anthony Ryan's collection "blew his mind." He went on to call it "the best dress he's ever seen on Project Runway" and praised it for its "shockingly sophisticated pocket placement." Carolyn said that while watching Anthony Ryan's show she felt like she was looking at a contemporary art collection. Margherita pointed out that maybe his collection is "trying to please too many people." Emilio may have made the best point when he asked how many different looks from Anthony Ryan's line a woman would want to buy; there's not much versatility here.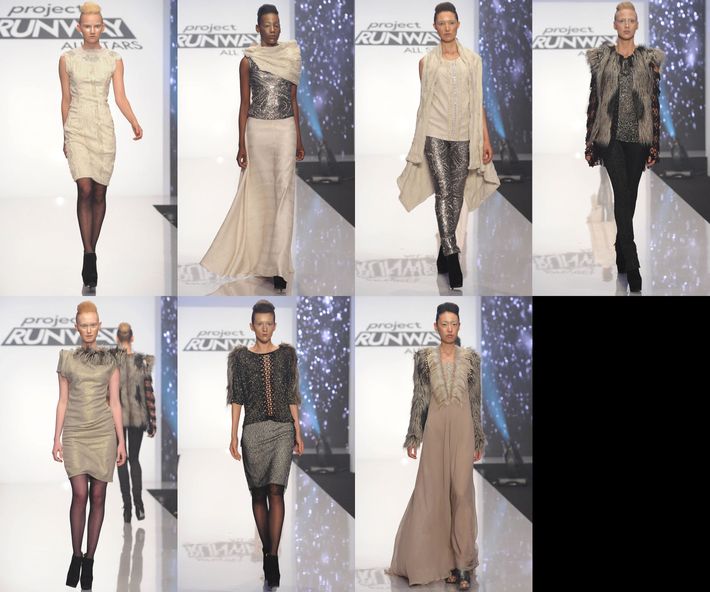 Uli Herzner 
Isaac complimented the way Uli makes people "laugh or cry over textures," and called her collection the most emotional of the three. Georgina said that she was "absolutely astonished" by what Uli was able to create in four days and praised her for having such a consistent point of view all season, but added that the use of fake fur was cheap. Liv was "completely blown away," and thought the whole collection was very cinematic, particularly the gown, which she called an Oscar dress. Carolyn confusingly told Uli to watch out for adding afterthoughts to looks, while Margherita loved the styling and the fairy-tale quality of it all. She reminded the other judges that fashion should help people dream, as she felt Uli's collection did.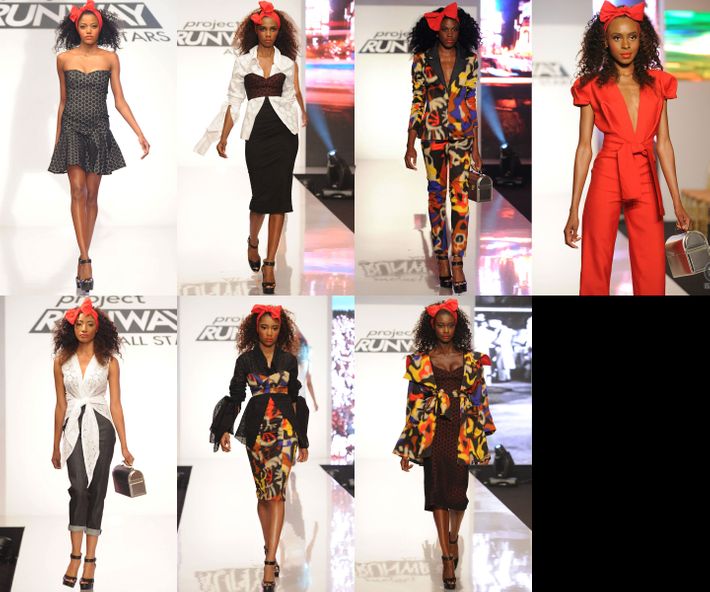 Emilio Sosa
Georgina thought this collection really showed Emilio's point of view and Isaac agreed, saying he was pleased to see Emilio so focused. He also called this the "most political" collection, but that seems obvious. Carolyn praised the strong construction and liked the mix of commercial and editorial pieces, but she and the other judges criticized some of the looks as too "juniors." (It was difficult to reconcile this criticism with how much everyone adored the jumpsuit in his collection.) Liv loved the colors, shapes, and detailing, and thought the looks would be "good for young pop stars." While Margherita thought it was sellable, she added that the line lacked "wow" factor.