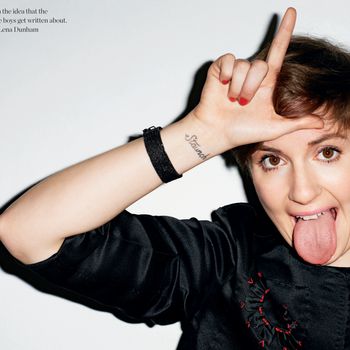 Lena Dunham, shot by Terry Richardson.
And lo, Lena Dunham's star continues to rise: She finished 2012 with a smattering of indie magazine spreads and an i-D cover, and now she's in V magazine, shot by Terry Richardson. The Cut has an exclusive first look at the photos, which will appear in the next issue, out January 10. In the accompanying profile, Dunham talks about how awesome it is to get free clothes in the mail, which now happens to her all the time.
I cannot get over it … And they actually send them in my size. No one's being an asshole and sending them to me in a 4. They're sending me clothes, they fit, and what people should know is that I always wear them. Somehow even if I wouldn't have bought it, the fact that it was free and my grandma's depression-era mentality make me think it is the most beautiful thing I ever owned, and I wear it for several days straight. 
She's also grateful that her job doesn't depend on her looks.
Now, meeting actresses who such a big part of their job is about what they look like, I feel so lucky to be freed from that prison. I ate cake for breakfast on the day of the Emmys, I ate cake for dinner, my workout didn't require Spanx, and I still feel like I looked better than people expected me to. It was amazing.
Moral of the story: if you under-promise and over-deliver, you can have your cake, eat it, and still fit into your free clothes and pose bottomless for Terry Richardson.