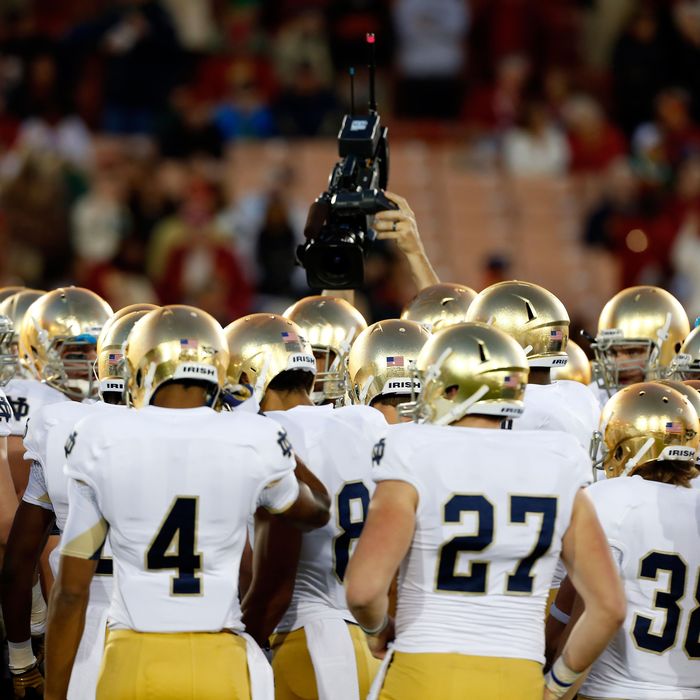 Photo: Charles Baus/Corbis
As many have noted, the mass hysteria over Notre Dame football star Manti Te'o's fake, dead girlfriend makes now a good time to remember Lizzy Seeberg, the real woman who committed suicide after reporting her sexual assault by another Notre Dame player in 2010. Speaking with Melinda Henneberger, who covered the case for the National Catholic Reporter, Seeberg's parents, friends, and therapist suggested that Seeberg, then a 19-year-old freshman, would still be alive today had she not been intimidated by the accused's teammates for "messing" with Notre Dame football.
At Notre Dame, women don't even need to be real to victimize the football team. The Nation's Dave Zirin pointed out that athletic director Jack Swarbick openly cried for Te'o in a press conference, revealing he'd hired an outside private investigator to figure out who perpetrated the "cruel game" against him. The school couldn't be bothered to do the same for Seeberg (they didn't even manage to interview Seeberg's alleged attacker until fifteen days after she filed a complaint, by which point she was already dead) but the U.S. Department of Education did. The Seeberg case prompted a federal investigation into how the university handles sexual assault, after which the school promised to do better. But according to Henneberger, Notre Dame women still cite Seeberg when they refuse to report their sexual assaults, again at the hands of football players. A Notre Dame alum, Henneberger later wrote that she found it impossible to cheer on the Fighting Irish (including the inspirational Te'o), knowing how the school was failing its sexual assault victims. Maybe next time administrators will take a page from the dead girlfriend hoax playbook.