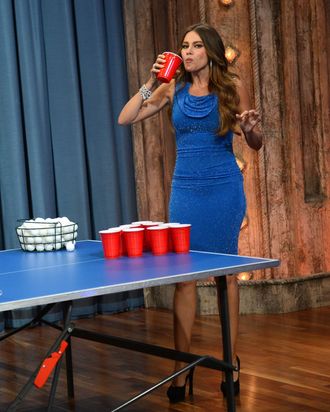 Sofia Vergara.
Photo: Jason Kempin/Getty Images
On Monday afternoon, we took a look back at 2012's most enthusiastic partiers and vowed to approach 2013 with similar abandon. So far, the title-holder for 2013's most adventurous celebrity reveler is Sofia Vergara, who reportedly engaged in a brawl on New Year's Eve at Miami club Story. The details are fuzzy, of course, but the Post says that Vergara and her fiancé, Nick Loeb, were arguing with each other as well as some people at an adjacent table. Loeb then allegedly started "pushing and shoving" another clubgoer and was thrown out by a security guard, with Vergara in hot pursuit. According to the Post's source, Vergara somehow became unclothed during the scuffle.
Sofia stepped in to try to calm the situation, but somehow she ended up getting pushed and shoved also. Her strapless dress was torn or pulled down in the melee, exposing her cleavage in front of other people and her son Manolo, who was so offended he left the club. It was crazy.
In other words, a real New Year's Eve party! Cheers, Vergara, for being the most exciting celebrity of 2013 so far.