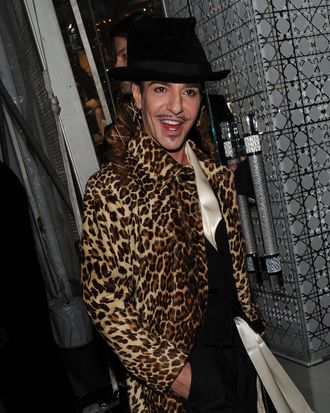 He's baaack.
Photo: Jason Kempin/Getty Images
On Friday, almost two years since he was so swiftly ejected from the fashion world, John Galliano cautiously began his comeback. His return is aided by Oscar de la Renta, who announced that he'll host Galliano in his New York design studio for three weeks. De la Renta has close ties with powerful figures like Anna Wintour and the CFDA, and his warm welcome to Galliano carries symbolic weight, like a very stylish olive branch from the American fashion industry.

The news was met with widespread approval, which isn't that surprising. The time is ripe for Galliano's return. Here's why:
1. He has been adequately punished.
Galliano lost his livelihood, his professional reputation, and his jobs at both Dior and his own eponymous label. He turned into a social pariah and became the butt of jokes everywhere, even at the CFDA Awards. He spent a small fortune on legal bills and rehab. He had a lot to lose, and lose it he did.
2. He's paid his dues.
Within days of being charged for his racist outburst, Galliano checked into rehab and made it clear, through his lawyers, that he was taking all necessary steps to recover from his substance abuse problems and alcohol addiction. He has stayed out of the public eye entirely since then, the one exception being Kate Moss's wedding (he designed her dress). A year ago, the industry might have been skeptical of his recovery; now that almost two years have passed, it's easier to believe in his sobriety. Moreover, he has made reparations with the plaintiffs involved in his case, as decreed by a French judge at the conclusion of his trial in June 2011.
3. He has apologized, and has been forgiven.
On March 3, 2011, just days after his scandal erupted in Paris, Galliano issued the following statement: "Anti-Semitism and racism have no part in our society. I unreservedly apologize for my behavior in causing any offense." When his trial finished that June, his lawyer cited Galliano's "sincere apology," adding, "He is looking forward to a future with understanding and forgiveness, hopefully, and to put all of this behind him." On Friday, when discussing the de la Renta news with WWD, Galliano repeated, "I have expressed my sorrow privately and publicly for the pain which I caused, and I continue to do so. I remain committed to making amends to those I have hurt."
4. Dior has officially moved on from the Galliano years.
If Galliano had emerged on the scene while Dior was still seeking his replacement, an awkward guessing game would have begun, and the label's inevitable selection of someone else would have been yet another snub. His decision to stay under the radar until the label found its footing again could also be seen as an act of respect towards Bernard Arnault, LVMH, Raf Simons, and even Dior's legacy. Now that Simons has firmly established his identity at the house, Galliano is free to pursue his own new direction as well.
5. Despite all the excitement of last season, that Galliano panache was still missing.
Last season was a very exciting one, with the dueling debuts of Raf Simons at Dior and Hedi Slimane at Saint Laurent. But when the dust settled (even after it was kicked up again several times, in Slimane's case), Paris was still missing Galliano's vivid, theatrical imagination. Simons and Slimane are excellent designers, but for better or for worse, they lack Galliano's indulgent sense of joie de vivre.
6. There are new designer machinations to fret over.
Case in point: Nicolas Ghesquière.
7. Galliano still has more to give.
Really, if he was capable of producing shows like this one while popping pills and boozing hard every night, just imagine his capabilities as a man of sound body and mind.