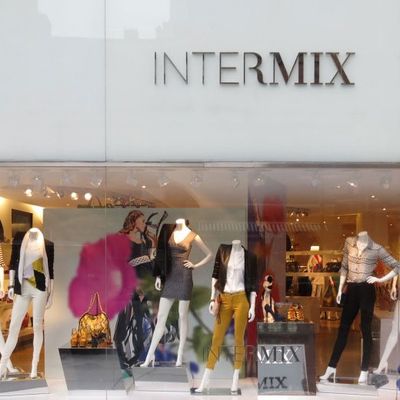 Intermix.
Photo: Courtesy of Intermix
News broke last month that Gap, Inc. and Intermix were sniffing out some kind of partnership. Both parties were cagey about it at the time, and would only admit they were "exploring different possibilities." But now they've officially committed, with Gap buying Intermix for $130 million, WWD reports. The acquisition means that Intermix will become part of Gap, Inc.'s portfolio of brands, which include Banana Republic, Old Navy, Piperlime, Athleta, and of course the Gap itself.
This is a surprising move on Gap's part. Intermix stocks wearable items from luxury designers like Azzedine Alaïa, Proenza Schouler, Fendi, and so forth, catering to a decidedly wealthier and more brand-conscious customer than Gap's other brands. And with the exception of Piperlime, all of Gap's apparel brands manufacture their own products. Gap was obviously seeking to diversify their holdings. (Gap, Inc. is not to be confused with Gap stores — this arrangement won't affect, say, Gap jeans.)
According to WWD, Gap's backing will help Intermix open more stores, grow its e-commerce capabilities, expand internationally, and add more designer offerings. Intermix's cofounder and CEO, Khajak Keledjian, and president, Adrienne Lazarus, will retain their leadership roles. In other words, the Gap-owned Intermix won't be terribly different from the way it is now — there will just be much more of it.