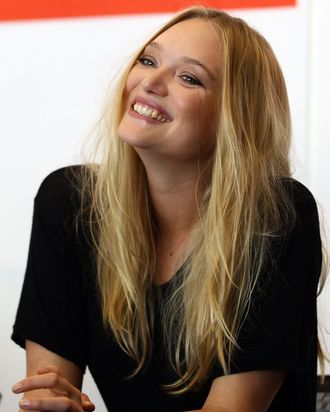 Photo: Paul Kane/Getty Images
Several weeks ago, Frockwriter reported that Gemma Ward signed with IMG Australia, the modeling agency's Sydney branch, which opened last year. Ward, who was discovered in Perth at 14 years old, has appeared on more than twenty Vogue covers — first fronting American Vogue at 16 (remember when there were models on American Vogue?) — and booked countless runway slots and campaigns before falling off the grid in 2008. She later told the Sunday Telegraph, "I've taken a break from the media spotlight for the last few years and it was something spurred by Heath [Ledger]'s death," whom she was dating before he passed away.
And there's no way Ward could've appreciated the attention that was paid to her weight. A 2010 Page Six Magazine article on the then-elusive model mentions Ward's turn in a Chanel bikini at a show three years earlier, with one editor saying, "I almost didn't recognize her," adding she looked as though she had put on ten to fifteen pounds — "big, almost bloated." Another source remarked, "In the last few years [her weight gain] was very much her f–k you to the industry. She's rebelling by putting on 30 or 40 pounds, so now going back isn't a straightforward option." Today, when you Google "Gemma Ward," you get related searches for "Gemma Ward weight gain" and "Gemma Ward weight gain pictures."  
During her fashion hiatus, Ward did some acting, with roles in Pirates of the Caribbean: On Stranger Tides and the play The Ugly One (which led to an understated Australian Harper's Bazaar supplement cover); however IMG Models Australia's general manager Danielle Ragenard told Frockwriter that Ward "wants to get back into the Australian market … she hasn't worked in this market for a long time so to make the move obviously it's because she wants to further her career." Ragenard wouldn't say whether Ward hopes to work internationally or what board she is signed to — straight or plus-size. Right now, the model's page features her old pictures and a list of her measurements excluding her weight. Which isn't our business, anyway.