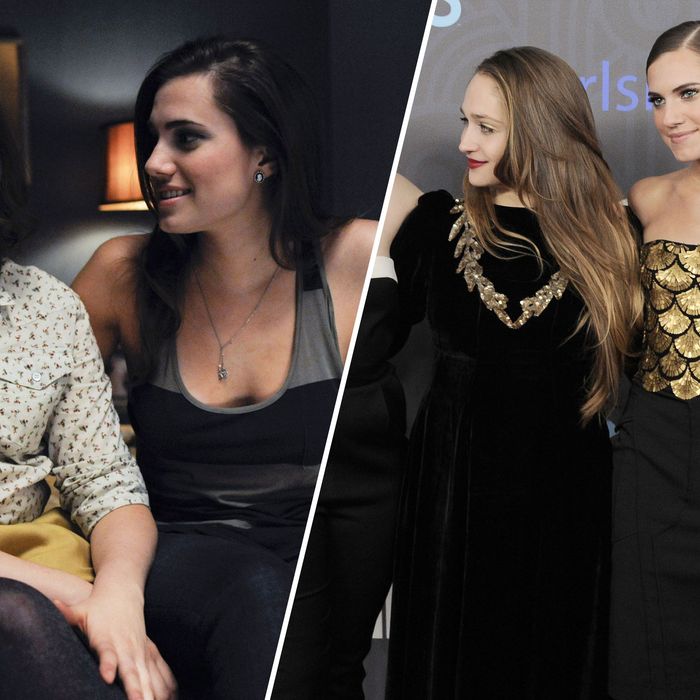 Photo: HBO, Patrick McMullan
So much has been made of Lena Dunham's penchant for flaunting her less-than-perfect body on the HBO series she writes, directs, and stars in, that it's been easy to overlook how the other girls of Girls bucked the repressive Hollywood standard of beauty too. During the first season, Girls co-stars Jemima Kirke and Allison Williams played what can, in TV parlance, be described as the hot and pretty friends, and indeed they were hot and pretty — but in a refreshingly normal way. That is to say, neither was particularly skinny that first season — certainly not Hollywood skinny. Trim, yes, but their bellies were noticeably soft, their hips curvy and faces full. Like so many of us, they'd look luscious in bikinis, like women who enjoyed brunch and weren't cultish about spinning. And yet they were no less attractive or desirable: Kirke as the sexually adventurous, bohemian femme fatale with "a face like Brigitte Bardot and an ass like Rihanna," so tempting she breaks up a marriage; and Williams as the uptight career gal with the classically patrician face and curves, who attracts a hot young artist at his own art show.
This realism was a departure from the standard template of a sexually desirable woman we're used to seeing on TV and film in recent years: typically modelesque things with cut arms, a smooth hip line, and flat abs. Today, most sitcom actresses have the kind of fantasy figures that in real life require hours at the gym: Cheryl Hines as a hard-bodied cougar on Suburgatory, Krysten Ritter's willowy vixen in Don't Trust the B—- In Apartment 23, Sofia Vergara as an impossibly buoyant trophy wife in Modern Family. (Even Vergara's theoretically less-glamorous Modern Family foil is the astonishingly toned Julie Bowen.) There are exceptions, of course, among them Kat Dennings on Two Broke Girls and Mindy Kaling on The Mindy Project, but neither character spends much time unclothed or rolling around in the sack. That isn't the case on Girls, where sexually explicit, skin-baring hookups are frequent and much like in life, having a stick-thin body is secondary to attitude and style.
It's a testament to the show, then, that during the first episode of the second season, Dunham doesn't let Williams get away with her real-life weight loss — she looks very Hollywood now — without comment. In a scene between Williams's Marnie and her mother (played by Rita Wilson), her mother tells her that she looks "30 years old." "I miss the softness in your face," she tells her. "All you girls think that you look really good, but you just look like floats in the Macy's parade — these big heads on these tiny bodies." And over the next few episodes, Marnie's problems only seem to get worse as she starts to rely more on her looks than her smarts to make a living.
But it's unsettling to see one of the most unseemly aspects of the entertainment business encroach upon the cast of Girls so quickly, and so visibly, if only because the show seemed such an aggressively defiant fuck-you to how women (and leading ladies) are expected to act and look on screen. While it's never surprising when an actress loses weight once she lands a hit show — we've seen this play out time and again, from Valerie Harper on the Mary Tyler Moore Show to Jennifer Aniston on Friends — it's a slippery slope when a popular series succumbs to Hollywood's baser pressures. Think of how quickly Roseanne degenerated once she gussied up; or how Elaine Benes lost her Everygirl neuroses once she starting using product to smooth her frizzy hair. Authenticity matters when authenticity is a crucial part of the story line, which has been the case for Girls, a show that prides itself in getting the details right, down to the "gross underwear" real women find themselves wearing during "goofy," "awkward" sex scenes.
Since there is a different standard in movies than there is on the small screen, some of the thinning out that happens to TV stars is inevitable. Historically, television has been a presumed launch pad for a bigger career in movies. But for the cast of Girls, some of this pressure seems self-imposed. Kirke, who started shooting the series six weeks after giving birth, alluded to as much in an interview with Vulture last year: "I mean, I've considered [losing weight]. Obviously I've been like, 'Maybe? I'm on TV. Allison Williams is looking really skinny and Lena's, like, lost a ton of weight, and Zosia's always, like, tiny. Maybe I should.' And then I'm just like 'I love eating with my family and I love eating Reese's at night and watching American Idol.' I can't." But then Kirke, who was roped into the show by childhood friend Dunham, has also said that she does not want to be an actress long-term.
Attractive women have always had a place on television but the extreme hottiefication of comedy's leading ladies only intensified when Friends debuted in 1994 with a cast of attractive twentysomethings portrayed in an aspirational light. Friends was a ratings blockbuster, and its ability to capture the elusive 18-to-49-year-old demographic that advertisers coveted made it a particularly lucrative cash cow. In an effort to re-create that magic, network executives greenlit a number of forgettable sitcoms with good-looking casts, and the drive for programs that feature young attractive cast members continues to this day. (Remember Brooke Shields as the suddenly single magazine writer on Suddenly Susan, or Lea Thompson as boyfriend-less cartoonist in Caroline in the City?) In the meantime, as the Friends stars grew more famous and opportunities to star in movies increased, so too did the pressure on its female cast members to look good. During interviews for my book We Killed: the Rise of Women In American Comedy, Marta Kauffman, the co-creator of Friends, said, "I think that the pressure that women who are in the limelight feel is enormous, and looking a certain way becomes a priority for them. No one ever said to these women, you have to be skinny. But I think when you go into a dressing room twice a week and try on clothes that you are going to wear in front of the camera, and you have to walk a red carpet and your picture is constantly being taken, it's going to become a priority." And Lisa Kudrow concurred: "There's still a pressure to be as attractive as you possibly can. And, you know, it's not from outside, it's inside too. They start feeding into each other. You see yourself on TV and it's, like, 'Wow, I really should lose; I really should be ten pounds underweight if I can manage it.'"
In her memoir Bossypants, Tina Fey — who famously lost 30 pounds before getting her star turn as co-anchor on Saturday Night Live's "Weekend Update" and now glams it up regularly on the red carpet and on the covers of glossies — argues that "we should leave people alone about their weight. Being skinny for a while (provided you actually eat food and don't take pills or smoke to get there) is a perfectly fine pasttime. Everyone should try it once, like a super-short haircut or dating a white guy." She gives us her "remembrances of being very, very skinny," running three miles a day, six days a week and "lov[ing] it when people told me I was getting too thin." It's clear that Fey doesn't put too much stock in Hollywood standards of beauty but she does play along. After her remembrances of being skinny, Fey offers remembrances of being "a little bit fat," yet another "natural phase of life and nothing to be ashamed of." It's a juxtaposition that also plays out on 30 Rock, as the objectively attractive Liz Lemon gets kicked around for being dowdy. The jokes are entirely out of character but as Fey got more famous and glamorized, some fans, fair or not, found it harder to take her self-deprecating slights.
Could the transformation of Girls from fleshy Williamsburg hipsters to glammed-out A-listers mark the beginning of the end, the moment when the rest of us stop believing that these girls echo, to paraphrase Hannah, the voices of their generation? Not that Dunham & Co. need to look schlubby, of course, but there is something particularly un-Everywoman about actresses we see on red carpets wearing Prada and Oscar de la Renta, as Dunham and Williams did to the Emmys last year. So far Dunham has managed to stay true to her mission and the first few episodes of the new season, which premieres Sunday on HBO, are fantastic. But it's hard to imagine that once the magazine covers roll in, and then the movie offers, that we won't soon see our girls get Simonized by the Hollywood machine.
Now, with all the fanfare surrounding Girls' second season debut this Sunday, Dunham and her co-stars are having their cake — let's just hope they keep eating it, too.