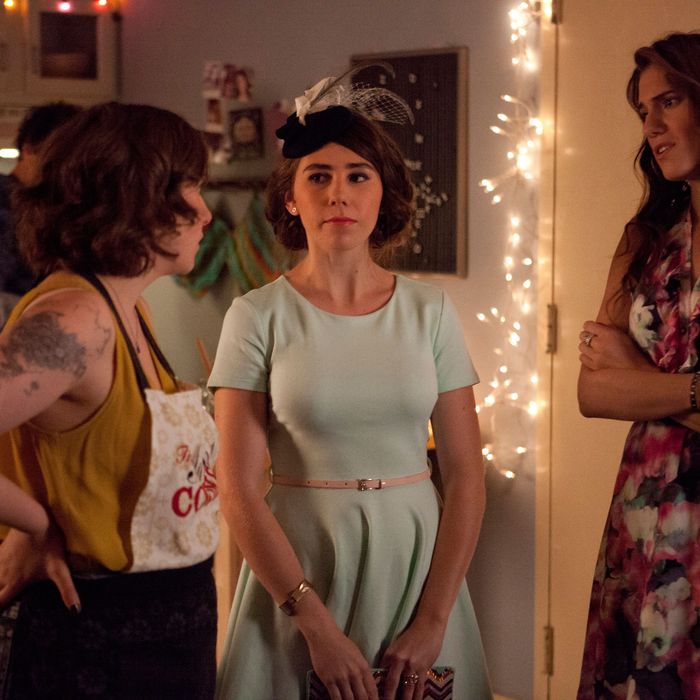 If you weren't watching Girls win several Golden Globe Awards last night, then you were watching the season two premiere. (Let's be honest, you watched both concurrently, switching over to Girls during commercial breaks to avoid that incessant bladder control ad.) Anyway, seeing the Girls actresses out in their red-carpet finery — Lena Dunham in off-the-shoulder Zac Posen, Allison Williams in plunging J. Mendel, and Zosia Mamet in a badass leather-trimmed gown — made for an even funnier juxtaposition with the getups they wore on the show last night. We talked to the show's costume designer, Jenn Rogien, about the episode's most memorable outfits.
Please explain what Shoshanna [Zosia Mamet] is wearing on her head in the party scene.
Jenn Rogien: It's a tiny hat. It was scripted as part of her outfit. We did a lot of research looking into what kind of tiny hats are available, and we ended up doing a custom-made tiny hat for Shoshanna based off of a couple of different bits and pieces. It's really two tiny hats in one, and we got both from Etsy. 
Why was the hat scripted in, do you think?
I think there might have been something about how she was watching a Sex and the City marathon and was inspired. It was also just a step forward in her evolution, really dressing up for this party. And it did seem like something that Shoshanna would try.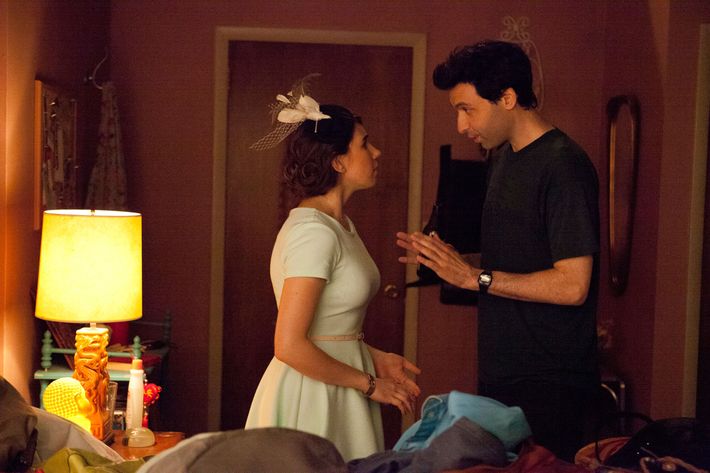 Speaking of headwear, let's discuss the headbands Audrey [Audrey Gelman] wears.
I love Audrey's headbands. They're all variations on a theme, and slightly bohemian. The one she wears in this episode is made of a double-braided leather band. We found a couple of them on Etsy, and a couple from Urban Outfitters. It's such a specific thing that isn't necessarily in stores, so we just find them wherever we can. I'd say that Etsy is our most generous resource.
Audrey also wears great jewelry.
She's wearing a gold bib necklace, and also a romper. She wears a lot of rompers.
You've said before that Marnie [Allison Williams] is forever missing the mark at parties, which brings us to the floral dress she wears to Hannah's.
The script said, "She's wearing a dress appropriate for the garden party in her mind." And that was definitely the dress. We modified it a little bit for the sex scene that she has, because we wanted it to be a little awkward to take off — you know, it closes up the front, so it's not the sexiest of dress removals. We wanted to play into the comedy where we could.  
And Hannah [Lena Dunham] changes in the middle of her party from one ugly dress into another one that's even uglier.
And that's true to Hannah form right there. The first dress was meant to play into the joke when she says, "I feel like a dumb sailor nun." So we found that dress, which is a vintage piece from Amarcord. The combination of the Peter Pan collar, the really sad color palette, and the proportions — it's too long, the waist is in the wrong place, it's got strange sleeves — makes for such a sad dress that Hannah would decide to change in the middle of her party into something more festive. And the dress she changes into is also tragic, but slightly more festive. The print is made up of a weird teal and a weird mustard color — very much part of Hannah's wheelhouse.
Finally, we get to see Jessa [Jemima Kirke] come home from her honeymoon with her hair braided.
There was a little bit of Bo Derek inspiration there. She's essentially wearing a beach sarong as a dress, as if she had picked it up on her honeymoon and decided to wear it home.