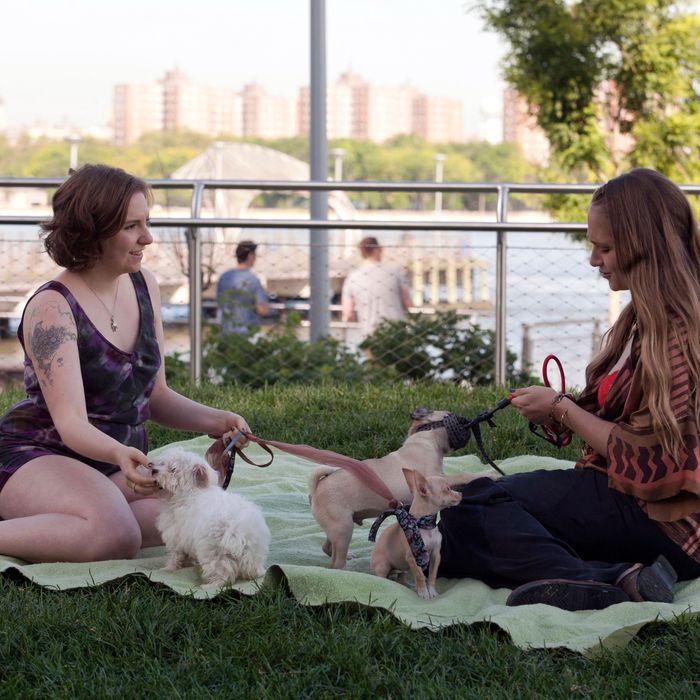 Last night's episode of Girls, the second of season two, commenced with what very well may be the best garment that's ever appeared on this show: a puffy orange thing worn by Hannah that makes her look, in Elijah's words, like a "sad little glow worm." Meanwhile, Marnie goes on a disastrous interview dressed, as usual, like a 40-year-old, and Jessa's new husband, Thomas John, learns all about shorteralls. For this week's installment, we caught up with the show's costume designer, Jenn Rogien, to learn more about the outfits.
So, what was that orange glow worm outfit that Hannah [Lena Dunham] wore?
It's a sleeping bag, with armholes and a hood. And, believe it or not, it was actually in the script that Hannah was wearing a sleeping bag with armholes. I had no idea that such a thing actually existed. I was gearing up to make it myself, or buy an actual sleeping bag and alter it to have armholes, and then one of my team members went online and found company that makes them, called Poler. Their website had this picture of this amusing hipster guy wearing the sleeping bag while making his breakfast. He was clearly using it as loungewear, which delighted me to no end. And I believe it's made in Portland, which is brilliant. It was a very popular item on set. Everyone in our crew tried it on at one point or another.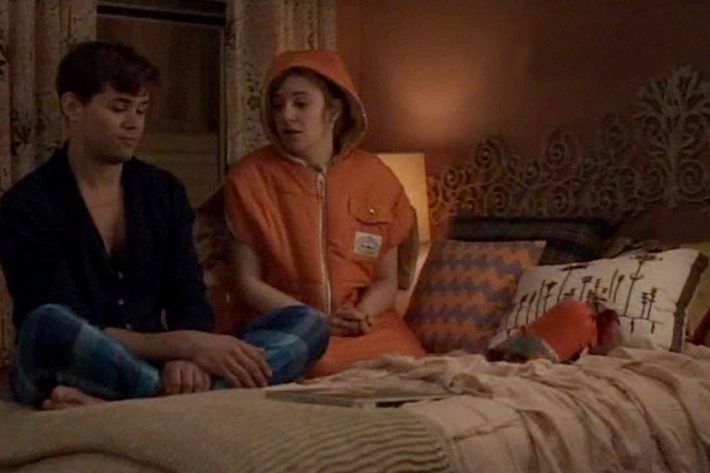 Marnie [Allison Williams] wears that blue suit to an interview at an art gallery, where she finally gets outed as a wearer of Ann Taylor.
The secret is that the suit is not Ann Taylor. That line actually happened on set, which was brilliant of course, but we didn't outfit the scene knowing she would say that. Obviously, that suit is not the right choice for an interview at an art gallery. We were looking for a suit that had a slightly modern fit, because Marnie sort of knows what she's doing, and a specific color, because it was supposed to show how hard Marnie's trying, but still be the incredibly wrong thing for that moment. 
Hannah gets to have a very long discussion with Jessa's [Jemima Kirke] new husband, Thomas John [Chris O'Dowd], about shorteralls. 
A big theme in the second season is, "shorts are all." I don't think there's a full shot of that particular outfit, but she wears it for a lot of the episode. It's not the most flattering thing that she's ever worn, but that's a direct continuation of what we're doing with her. The outfit also references a pair of shorts she was wearing in a deleted scene from episode one.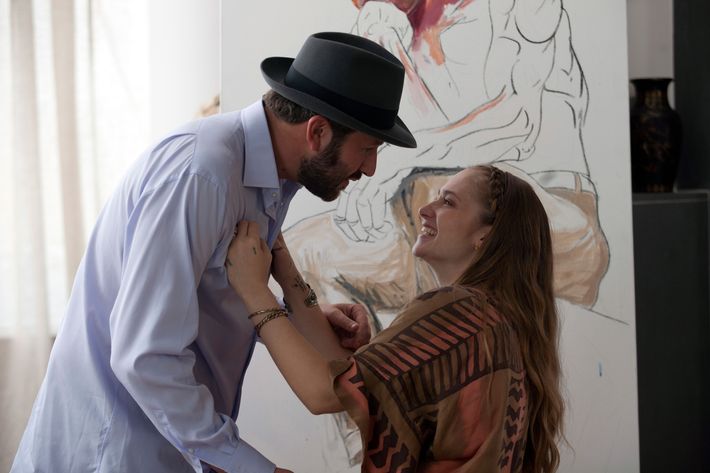 I love Jessa's married rich-lady loungewear — which isn't much different from the clothes she wears all the time.
Yes, this was another kimono, and she wore kimonos last season too. She's also wearing crazy amounts of jewelry, even when she's at home, and even when she's painting.