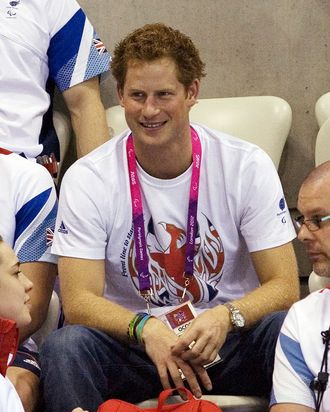 Photo: Mirrorpix/Splash News/Corbis
In a BBC interview at Camp Baston, a British military base in Afghanistan, Prince Harry finally discussed his strip billiards defeat, which happened last summer in Vegas (but did not stay in Vegas). "I probably let myself down, I let my family down, I let other people down. But at the end of the day I was in a private area and there should have been a certain amount of privacy that one should expect," he said. Harry went on to describe the incident as "a classic example of me probably being too much Army and not enough prince." He did not comment on his necklace — a silver disk strung on a piece of leather, reportedly a gift from on-again, off-again girlfriend Chelsy Davy — that stayed put the entire night, despite his lack of clothes. Does he wear it while he's on soldier duty? This is an important question.  
The prince also spoke about becoming a royal Uncle! "Obviously I'm thrilled for both of them. It's about time," he said. "I think it's very unfair that they were forced to publicise it when they were, but that's just the media for you." And there's why Kate and William had to make their baby announcement when they did.